3 Ways to Pray the Rosary Better, According to St. John Paul II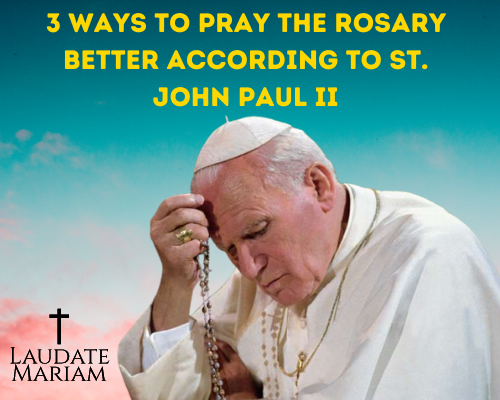 St. John Paul II loved to pray the Rosary. In fact, he said: "The Rosary is my favorite prayer. A marvelous prayer! Marvelous in its simplicity and its depth!" He prayed the Rosary often, in many different places - in the Church, in the shrines of the Blessed Mother, while walking amongst nature, in the mountains.
On October 16, 2002, he released his apostolic letter Rosarium Virginia Mariae ("The Rosary of the Virgin Mary"), which introduced a new set of mysteries of the Rosary - the Luminous Mysteries. What many do not know, however, is that St. John Paul II in that apostolic letter gave some beautiful, practical suggestions on how we can pray the Rosary better. The 3 suggestions that we will share below are not meant as instructions, or mandatory things we should do while praying the Rosary. Rather, they are suggestions given by St. John Paul II which, if applied, will help us pray it better.
St. John Paul II recommended the use of religious icons that depict the mysteries of the Rosary. The purpose is to help us "focus our attention." As human beings, our senses are easily distracted by many things. Announcing the mystery out loud, and using religious icons, help concentrate "the mind on the particular mystery."
This is the reason why it is highly recommended that we set up a beautiful family altar at home, before which we can pray the Rosary as a family. Beautiful images of Our Lady and Our Lord Jesus will help focus our minds on prayer.