Pope's Favourite Journalist Claims Pope Francis Approves Communion for all Remarried Who Ask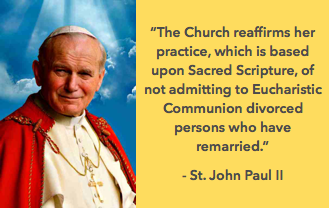 Just days after the conclusion of the Synod on the Family, Eugenio Scalfari, the atheist co-founder of the Italian daily La Republicca, said that Pope Francis told him "all the divorced [and remarried Catholics] who ask" will be admitted to Holy Communion.

Scalfari, who has published numerous controversial interviews with the pope, said that Francis phoned him the evening of October 28 to discuss an article Scalfari had written about the synod.

Scalfari said Pope Francis spoke about the diversity of opinions expressed by bishops at the Oct. 4-25 synod, particularly on the feasibility of some divorced and civilly remarried Catholics receiving absolution and being allowed to receive Communion even if their first, sacramental marriage has not been annulled. Scalfari quotes the pope as follows:

"The diverse opinion of the bishops is part of this modernity of the Church and of the diverse societies in which she operates, but the goal is the same, and for that which regards the admission of the divorced to the Sacraments, [it] confirms that this principle has been accepted by the Synod. This is bottom line result, the de facto appraisals are entrusted to the confessors, but at the end of faster or slower paths, all the divorced who ask will be admitted."