2000 Mile Journey
by Tobias R.W. Brown
(Frankenmuth MI USA)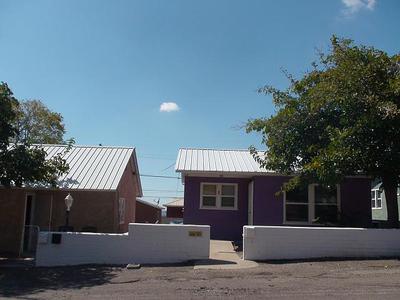 My new home in Superior AZ
My apartment in Frankenmuth Michigan no longer "feels" like home. Everything has been sold, given away, tossed or packed in my 1994 Chevy Van. I am 68 and have a lot of medical issues. My two daughters and their families live in Phoenix Arizona.


Friday October 31, 2014 I will start my journey to Superior Arizona. My Parish there will be St. Francis of Assisi. Superior is an old mining town about an hour and a half away from Phoenix. There the rent was a lot more reasonable than in Phoenix. I have been contemplating this move for some time. Now as I see the van 97%packed and my apartment "purged" and practically empty I must admit I am a bit anxious and yes even fearful. My friend and ex-co-worker will come with me and then return on AmTrak. So I will have help driving and finding my way.
There is not a huge amount of money for this journey but a lot of people have opened their hearts and wallets. I have a deposit down on a small house in Superior. It is hard pulling up stakes and venturing out of my comfort zone.
After much thought and prayer I do feel this move was pre-ordained and that I will be an active member in my new parish. I am asking you all to remember me in your prayers as I journey 2000 miles across country to my new home. I am sure the climate will help me physically and that I will make new friends.
I received the blessing of healing at Mass last Sunday and father also blessed my van.
I know there is a lot that could go wrong especially with an older vehicle. I figure we will be traveling 4 or 5 days.
My friend rooms with our ex-boss. Yesterday I was told the city turned off their water because of past due bills. To have it turned on is $280.00. I am afraid if I give him the money, I won't have enough to make the trip. He also has $4500.00 in stocks and bonds. Last week I asked him if he would take out $500.00 to keep in reserve (it takes a week for him to get any funds) in case I needed to borrow it while in route. This he refused to do. Am I obligated to pay his water bill? He is making me feel guilty, in even leaving, as I guess I have been there for both of them, for the past 13 years. His Social Security Check comes in the 3rd so he will be able to have the water turned on then.
I woke at 4 A.M this morning and I am upset over this latest water fiasco. So once again I ask that you join my prayers to Our Lady and Jesus Most Holy to look over me as I pilgrimage to territory unknown. Also that Financial Blessings descend on my ex-boss, who is in very poor health. Thank you for all your prayers. I will post again to let you know how the journey went. I already feel better knowing that so many "Prayer Warriors" will be storming heaven's gate with my humble requests.
I remain in Mary's Shadow, Tobias, Frankenmuth Michigan USA