Book, movie and other important deals and signings be made possible come September
by Chimezie Ihekuna (Mr.Ben)
(Surulere, Lagos, Nigeria)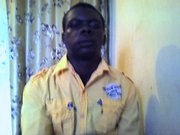 My picture
I have an agent, in the person of Tracie Williams (Trinketsbytracie). I signed a three year deal with her. In the deal/contract, she told me she will represent me in books, movies and other forms. It was signed in the month of May. Later, she told me that the meeting was scheduled for September. Now, in about twenty four hours, the month of September will be in force. Now, i really would like to know if she is really genuine, taking me serious as one of her clients and more importantly, know the possibility of securing deals this month.


My prayer is that i want the request materialized, come September, 2013, in Jesus' name, Amen!
I want you to prayer for me. And if there is any prophecy/revelation concerning my life, feel free to contact me.
Below are my contact information
Name: Ihekuna Chimezie Benedict
Phone: +2348062162220
Email:mrbenisreal@gamil.com.