Loving Jesus More Through Mary
By Chi Bocobo as told to Tina Santiago-Rodriguez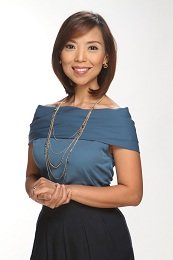 (Ma. Cecilia Datu-Bocobo, more popularly known as "Chi Bocobo" is so much more than just a news anchor in the Philippines for TV5 and Aksyon TV, a segment host for Family Rosary Crusade, a songwriter and voice talent — she is also a devout Catholic wife and mother, a "lover" of Jesus and Mama Mary ever since she was a little girl. Because of her family's involvement with the Catholic charismatic community Ang Ligayang Panginoon, Chi and her siblings were taught to love, honor and respect the Blessed Virgin Mary as their own mother, among other things.
Now, at 37 years old, Chi and her husband, Jorge Daniel Bocobo, strive to instill the same faith-centered values in their family, especially when it comes to raising their two-year-old son, Santiago Rafael or "Sancho."
Here, Chi shares about how she lives out her faith in all she does, and how Mama Mary plays a role in her life as well.)
Seeds of Faith from Dad and Mom
I have three sisters and two brothers. I am actually the third sibling, but my older brother died at birth. I never really came to know him—his name is Joseph—so I grew up believing he is one of God's many angels. I personally witnessed how Christ transformed our family as He called us from the world into His fold. As my parents began to embrace their new life in Christ, they also began planting seeds of faith in our hearts.
However, I realized at a young age that being deeply rooted in Christ does not guarantee a problem-free life. Our family had some struggles as well, and even suffered "persecution" when trusted family friends and business associates turned against us at one point in our early years as renewed Catholics. Amidst all these, we continued to pray as a family every Sunday and attended prayer gatherings in our prayer community, LigayangPanginoon (LNP).
My parents taught us many things about our Catholic faith. One practice I have taken on up to this day is praying the rosary or having my quiet time with the Lord while in transit to any destination. I would always carry a rosary with me as I commuted to and from the university during my college days, and even now as I go to and from my destinations.
Recently, on my mom's birthday, I honored her for her many sacrifices and acts of love for our family, especially for my siblings and me. But, what I will always be grateful for is the way her life led us to Jesus. She took the time to read us stories from the Bible when we were little. She brought us with her to Church often for her dose of extra Masses. She would encourage us to use our talents, especially in music, to serve God.
My dad, on the other hand, taught us the values of honor, respect, commitment and excellence, not just in our community, but also in our respective fields.
Blossoming in Faith at School
I spent my elementary and high school years in Colegio de San Agustin in Makati. This is where I grew in my prayer time, as I wentto early morning Masses and spent time speaking my heart out to Sto. Niño in our school chapel. I also became prayer leader for the Angelus and the Rosary, so that helped me form the habit of asking for Mama Mary's intercession as well.
The life of our patron saint, St. Augustine, likewise made a big difference in my life.I continue to be in awe of how our patron saint, St. Augustine, a sinner, became a saint through the unceasing prayers of his mother, St. Monica, and God's own work. To this day, I live by St. Augustine's words: "You have made us for yourself, O Lord, and our heart is restless until it rests in you."
As I moved on to De La Salle University, I continued hearing extra masses during my lunch break, and remained active in the youth ministry of LNP as I aspired to graduate with honors from Communication Arts and Financial Management(which is another story altogether).
Bearing Fruit for the Lord through Formation and Service
I am blessed to have become part of LNPat a young age of nine years old.I recall how my parentswould bring me to prayer gatherings and I would attend my own children's formation sessions in the communities they belonged to previous to LNP.
Eventually, I got involved in the community's Young Adults' program and then the Singles program.At present, my husband and I, with our son Sancho, are still living the way of life in LNP.
My work for the Family Rosary Crusade (FRC) was God's answer to my prayer. You know how people say, "Be careful what you wish or pray for…" One day, I prayed that God would give me an opportunity to serve Him more using my gifts. Before I knew it, I said yes to thehosting ofa Family Rosary Crusade segment for television called "KwentongBuhay."It is my ministry of hope and faith, as it depicts various stories of conversion.
Soon, new segments came out, including one called "Children's Rosary Club." This is a fun segment where I tell stories from the Bible, discuss lessons with the children and teach them a specific artwork in the end. There's also a show called "Family Matters," where I host a segment called "LEAF: Leisure and Entertainment Alternatives for the Family." I can't believe it's been more than a decade since I started out at FRC!
Spreading the Fragrance of Mama Mary
I've known Mama Mary for as long as I can imagine. My mother used to tell me "Ask Mama Mary to whisper your prayers and petitions to her son Jesus... He won't be able to refuse His mom, you know..." My father always led us in praying the rosary during trips to the province or during our family prayer time.
In Tarlac, my fraternal grandmother prayed and recitedthe Litany to our Blessed Mother with us. We would even jokingly plead during mealtimes that our Lola would not choose to say grace with the rosary and litanies, as we were all hungry. I realized that my prayers were completed by asking our dearest Mother's intercession to Jesus.
My maternal grandmother, Nanay Lovelove, greatly influenced my devotion to Mama Mary.She prayedthe rosary every night until her dying days. The day she passed, I kissed her forehead to say goodbye, and there was a fragrance around us that I could not explain. It was the presence of our Blessed Mother.
I was talking to our Blessed Mother at the FRC chapel before this interview and I said I do not feel worthy of being called a Marian devotee because I feel I am not as active in Marian works and movements as other devotees. Nonetheless, I do have a deep love for our Mother, and I call on her at all times. I gain so much peace reflecting on the life of Christ through the mysteries of the rosary. I also try to attend Wednesday Masses and pray the Novena to our Mother of Perpetual Help. There alsois FRC, which to this day is a ministry that propagates unity in families through prayer.
One service to the Blessed Mary I will remember was when I recorded prayers, novenas and the various mysteries of the rosary for My Phone, a Filipino mobile phone brand. Thinking of the overseas Filipino workers and Filipino families that are praying "with me" makes me feel that I am an instrument for spreading the love of Christ and our Mother in my own little way. I've heard stories about families and their house helpers praying together using the recorded prayers, or people getting into the habit of praying the Angelus, Morning and Evening prayers through it.
Relishing in and Passing on the Love for Mama Mary
I believe that Mama Mary is our greatest Intercessor and Mediator. She understands everything I go through as a wife and mother. I call on her first when I go through challenges. I pray for her protection at all times, remembering how my parents asked her to cover our family with her blue mantle of protection. I ask her to cradle my son in her arms when I'm out working, and trust that she will bring to Christ all our prayers.
My family also shares a deep love for our Mother Mary. My husband and I often seek her intercession and honor her through novena massesto our Mother of Perpetual Help. Our two-year old son knows the "Hail Mary" prayer by heart and is now learning more about our faith. He loves Christian music and lifts his hand in praise to our God when he sings. Our son's nanny has become active in our community's "Kasambahay" outreach. She attendsgatherings regularly, while our other help remains a devotee of Our Mother of Perpetual Help.
Chi's Message for You: Believe in Miracles
I believe in the power of prayer. I believe in the Lord's supernatural gifts. I believe in miracles. I believe that He who walked the earth to cause the blind to see, the lame to walk, even the dead to rise again still does the same for us today, if we only believe.
Our son Sancho was diagnosed this year to have Spinal Muscular Atrophy (SMA), a genetic condition that causes his muscles to progressively weaken. There is no known cure for it and this deeply saddened us. But 2 Corinthians 4:8 says, "We are afflicted in every way, but not crushed; perplexed, but not driven to despair." This is because we believe in a loving God who is bigger than all our fears, bigger than our son's SMA. Ourson is sucha bundle of joy and faithandthat is why we will continue believing in miracles, and in our Mother who intercedes for us and loves us. Let us all aspire to love unconditionally, endure quietly and pray unceasingly!
---
---
Get our Free Newsletter!
Get the latest articles straight to your inbox - Free!
Click here to return from Inspirational Story Devotion to Mary to Inspirational Stories.