A Lay Minister's Experience of Christ's Holy presence in the Holy Eucharist
by Pompil Corsame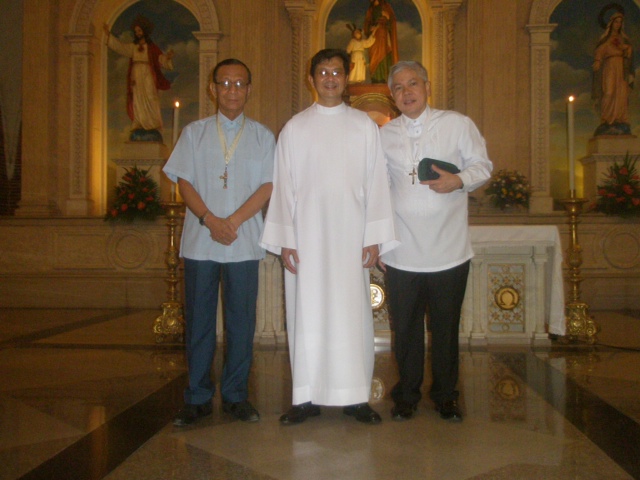 I came from a relatively poor family. My father was a public school teacher and my mother worked by selling foodstuff in the public market. Nevertheless, at a tender age of six I was already a devotee of Sr. Sto. Nino asking him to guide me to be the person He wants me to be in the future. I was normally awakened at 5:30 in the morning to perform my chore of marketing different types of meat to be prepared, cooked, and sold for the next day. On my way to the market, I would pass by the Sto. Nino chapel as it was an opportune time for me to talk to him every morning asking him to bless my day at school that I may be successful in any endeavour I may be in . True enough, I had my share of blessings. I was an honor student in my grade school years and was the only child in the family to enroll in Silliman University for my High School education. And then I graduated and passed the Chemical Engineering board exams .
Gearing myself up into this engineering career was full of challenges not to mention financial difficulties. In my 3rd year, I had to support myself until I graduated. Through all those difficulties I always felt God was helping me. Though I enjoyed the company of friends, on my hardships and solitary moments I have persistently held on to be a devotee of the Mother of Perpetual Help for enlightenment and guidance.
I have been into several jobs and in each one was an experience of God manifesting His Holy presence. His guidance allowed me to see opportunities that led my career to peak up, until I became a General Manager in a number of occasions. And the challenges never stopped, they only got more complicated and bigger.
In the meantime, a friend from our parish was inviting me to be a lay minister, and two reasons why I could not commit to it. One, we were already members of the BLD (Bukas Loob sa Diyos) and saying yes to it will entail more hours from me. Secondly, I said that I was not worthy to serve and give communion. However, when God calls you to serve, He really makes a way and calls you by your name that you cannot deny. The lay minister who invited me finally said..."Pompil, if you're waiting to be worthy to serve the Lord, it will not happen, we will never be worthy to serve Him, and all we can really do is try". That hit me, and so I agreed to attend the next orientation. And now, I cannot imagine life not serving God by being a lay minister. I'm still not worthy to serve Him, but certainly , serving Him daily through the Holy Eucharistic celebration helps me tread the path of worthiness, of being closer to Him in a very special and spiritual way.
I lost my job twice already and each time was quite an experience. The first time was a shock and a very humbling one. Never in my wildest imagination did I think I would ever lose my job. In three months though, I was hired by another company and looking back, I believe I needed those three months to bond with my children and wife.
The second time that I lost my job was quite different. I lost my job prior to this current one for political reasons. I was treated in a state of humiliation. No matter how i tried to win back my boss' support it was rebutted with insults and condemnation. It was then that I started to hear mass every day and serve as a lay minister. I offered daily prayers for my boss that I may be treated back with respect and for me to receive the gift of patience, kindness, and understanding. It was like this for three gruelling months, until I finally made a decision to simply resign. My daily mass gave me courage to just resign and trust His Providential plans for me.
I submitted my resume to all the Hiring Consultants I know. I was open to foreign job placements if there were any. I went through interviews here and there but nothing prospered. The weeks became months and the months passed on quickly. I often found myself crying out in the Adoration chapel , and gazing at the Holy Eucharist, asking, "Lord, what do I need to do? " and I waited for answers...I tried to discern...and finally I was convicted and was ready to give up on anything. While I was crying for help to find me a job, my heart was so proud about my professional achievements and credentials that I continued to do things on my own instead of allowing God to work through me. I promised that whatever happens, I will continue to serve Him as a Lay Minister in the daily masses and will continue to serve the Ministries that He has entrusted to me.
My wife and I were then invited to a BLD teaching on "Tithing". It was at this time that we committed that whatever earnings we have, we will give the first 10 percent to tithing. As soon as the teaching was concluded, I felt a big sigh of relief as I could feel God has something in store for me. The next morning, a friend of ours took my resume and sent it to a former business colleague now based in Hongkong . Two days later I was called for an interview in Hongkong, and then the last interview with the CEO in UK. The bonus was an invitation to the Wimbledon finals while I was there. I finally found a job after nine gruelling months. And this job was not even any of the many ones I applied for, but something that was just handed to me. If you don't call that Divine Providence, I'm not sure what it is.
Now , I am fully convinced God prepared me for this job as I needed to do some organizational clean up and improve operational efficiency of the company which was at a critical stage of potential closure. This was a provincial assignment that I could only go home to my family on week-ends. While I was preparing for my new job away from home, I prayed that I may be given the chance to serve the Holy Eucharist every day and I be given a chance to stay close to the gym for me to do my daily exercises. Amazingly enough, these two things were granted. God provided for my physical and spiritual needs.
In my first few weeks of serving the Holy Mass in Bataan, I stood next to the Parish priest in commissioning the Holy Host to the communicants. The queue leading to the priest was so long and few to nothing was on my lane. I felt a sense of embarrassment standing there waiting for people to change lane for me to commission the Host unto them. No one came. I went up the altar returned the host and went back to my pew. I knelt down and asked the Lord why do people have preference on whom they would receive the Host. This happened once again in the next couple of days. It was then I realized no Lay Minister would like to stand next to a priest during the Holy Communion.
I did a reflection on this as this incident really bothered me. I prayed and meditated to our dear Lord why this is so. The answer to my reflection is to extend patience and understanding to these people.
That the best thing I need to do is offer my prayers for these people for the continuing conversion of their hearts , that they be given the opportunity to feel the presence of Jesus in the Holy Eucharist, and for the Lord to continue to touch their hearts. Without hesitation, I started to pray for each and every communicant that came my way. Then my prayers for conversion extended not only to those that come my way but to all communicants of the mass . As I commissioned the Host to each of them, I say a short prayer of conversion of the hearts. As I was doing this every day, the people lining up on my end begun to increase. And then I asked the Lord if my prayers for these communicants are heard. Have they been touched by the Lord's Holy presence? I asked not because I cast doubt on my prayers not answered, but it was a prayer asking for affirmation that the communicants indeed felt the Holy presence of Jesus so I can be a living witness to fellow Lay Ministers.
A few days passed and while I was inside the restaurant, an old couple in their late sixties introduced me to a priest telling him that I am a Lay Minister and that when I commissioned the Host to them that they can feel Jesus' Holy presence in the Holy Eucharist. I felt overwhelmed and expressed a deep sense of gratitude to God for affirming my prayers. This was re-affirmed once again by a fellow BLD member telling me that when I commissioned them the Host they felt the Holy presence of Jesus. They felt an overwhelming feeling inside their hearts ...a deep sense of holiness. From that day on, I shared this experience to my fellow Lay Ministers and will continue to do so given the opportunities. My prayers for conversion of the hearts now extends to all those present in the church that they may experience Christ communing with them through His Holy presence in the Holy Eucharist.
The Lord's presence in the Holy Eucharist is real. I know it and I stand witness to it. I help serve the Holy Eucharist through the daily mass, and on Sundays to the sick people in their homes. May the Lord continue to provide me the opportunity to serve Him all the days of my life in whatever way I can, but most specially in giving out the Holy Eucharist to those people that are called by Him. TRULY GOD IS GOOD ALL THE TIME !!
---
---
Get our Free Newsletter!
Get the latest articles straight to your inbox - Free!
Click here to return from Lay Minister to Inpirational Stories.