Proclaiming the Word of God
Jesusa M. Aragon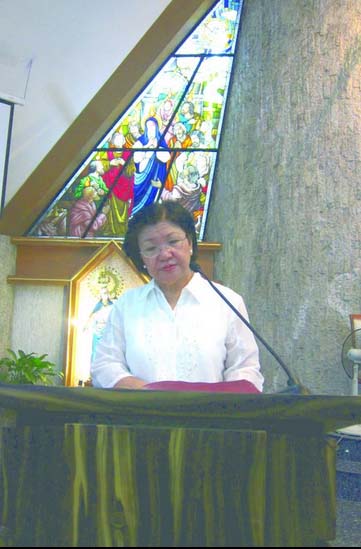 My becoming a lector was incidental. It started in 1996 at Medical Center Parañaque during our Wednesday hospital visits to confined patients, an apostolate work of the Legion of Mary. Since Masses were also held during our visits, Sister Marilyn Juson and I were tasked to assist in the readings. To be really worthy to read the Word of God, Sister Marilyn suggested that we attend the Lectors and Commentators' (LECS) Archdiocesan Seminar in San Carlos Seminary, along with other candidates from our parish of the Presentation of the Child Jesus (PCJ). I remember she said that we will only be lectors for the hospital, so I agreed. But to my surprise, we were also assigned to serve in PCJ. I recall being very hesitant then – I wanted to beg off and was nervous at the prospect of facing a big community of Mass goers. But by God's grace, our Lord's calling to serve Him joyfully and wholeheartedly prevailed, and I continue to serve as a member of the LECS.
Becoming a lector is not easy. It is a commitment, an involvement that entails hard work and sacrifices. It means not just preparing and practicing the readings but internalizing and living the Word of God. It also means understanding and knowing the Liturgy, the liturgical seasons and their colors. It means getting up very early to be in church at 5:30 a.m. for the Christian Prayers or Lauds followed by the Holy Mass at 6:00.
Being a lector can also mean being a "911 church server," that is, aside from reading the Word of God, one has to be ready to project it too (operate computer and LCD projector) and sing it (be song leader in the absence of a choir)!
No matter how much I have practiced or how well I know the readings, I always get nervous as I wait for my turn to read. I try to quell the butterflies in my stomach with deep breaths. Then I pray, "Come Divine Will, read in my reading," or "Come Holy Spirit, please use me to speak your Word and help me touch someone who needs to hear Your Voice today." As a lector, I can get easily distracted – being seated in front of the congregation gives one a pretty good view of some goings-on. But God has His way of getting me focused.
Being a lector keeps me rooted in my Faith by keeping me grounded in regular Scripture readings. It helps me feel like I am truly part of the greater Christian community. When I look and see the same people sitting in the same seats, day after day, week after week, I am encouraged; their faithful attendance reminds me that it is important to be here.
By calling me to be a lector, God gives much more than I will ever be able to give the Church. God ministers to me through my service in the Lectors and Commentators, and I thank Him for this "incidental calling" to serve.
---
---
Get our Free Newsletter!
Get the latest articles straight to your inbox - Free!