The Luminous Mysteries
The First Luminous Mystery: The Baptism of Our Lord
Gospel Reading
Then Jesus came from Galilee to the Jordan to be baptized by John. But John tried to deter him, saying "I need to be baptized by you, and do you come to me?" Jesus replied, "Let it be so now; it is proper for us to do this to fulfill all righteousness." Then John consented. As soon as Jesus was baptized, he went up out of the water. At that moment heaven was opened, and he saw the Spirit of God descending like a dove and alighting on him. And a voice from heaven said, "This is my Son, whom I love; with him I am well pleased." (Matthew 3:13-17)
The Second Luminous Mystery: The Miracle at the Wedding Feast of Cana
Gospel Reading
On the third day a wedding took place at Cana in Galilee. Jesus' mother was there, and Jesus and his disciples had also been invited to the wedding. When the wine was gone, Jesus' mother said to him, "They have no more wine." "Dear woman, why do you involve me?" Jesus replied. "My time has not yet come." His mother said to the servants, "Do whatever he tells you." Nearby stood six stone water jars, the kind used by Jews for ceremonial washing, each holding from twenty to thirty gallons. Jesus said to the servants, "Fill the Jar with water"; so they filled them to the brim. Then he told them, "Draw some out and take it to the master of the banquet." They did so, and the master of the banquet tasted the water that had been turned into wine. (John 2:1-9)
The Third Luminous Mystery: The Proclamation of God's Kingdom and the Call to Conversion
Gospel Reading
Jesus went throughout Galilee, teaching in their synagogues, preaching the good news of the kingdom, and healing every disease and sickness among the people. News about him spread all over Syria, and people brought to him all who were ill with various diseases, those suffering severe pain, the demon-possessed, those having seizures, and the paralyzed, an he healed them. (Matthew 4:23-24)
The Fourth Luminous Mystery: The Transfiguration of Our Lord
Gospel Reading
After six days, Jesus took Peter, James and John with him and led them up a high mountain, where they were all alone. There he was transfigured before them. His clothes became dazzling white, whiter than anyone in the world could bleach them. And there appeared before them Elijah and Moses, who were talking with Jesus. Peter said to Jesus, "Rabbi, it is good for us to be here. Let us put up three shelters – one for you, one for Moses and one for Elijah." He did not know what to say, they were so frightened. Then a cloud appeared and enveloped them, and a voice came from the cloud: "This is my Son, Whom I Love. Listen to Him!" (Mark 9:2-7)
The Fifth Luminous Mystery: The Institution of the Eucharist at the Last Supper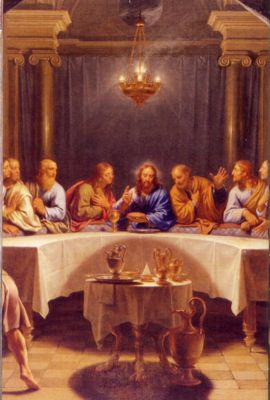 Gospel Reading
When the hour came, Jesus and his apostles reclined at the table. And he said to them, "I have eagerly desired to eat this Passover with you before I suffer. For I tell you, I will not eat it again until it finds fulfillment in the kingdom of God." After taking the cup, he gave thanks and said, "Take this and divide it among you. For I tell you I will not drink again of the fruit of the vine until the kingdom of God comes." And he took bread, gave thanks and broke it, and give it to them, saying, "This is my body given for you; do this in remembrance of me." In the same way, after the supper he took the cup, saying, "This cup is the new covenant in my blood, which is poured out for you." (Luke 22:14-20)
---
The Second Coming of Christ will take place in your lifetime.

According to this book which contains a series of incredible messages and prophecies to an Irish seer, our present generation will witness the Second Coming of Christ.

Click here to read a book review that summarises the key messages of the book.
---
---
---
Get our Free Newsletter!
Get the latest articles straight to your inbox - Free!