A Marriage Story: For Better or For Worse
by Arthur Policarpio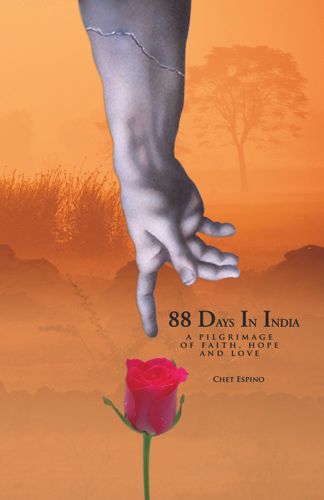 Margie Espino, business editor of a leading Philippine broadsheet newspaper, went to India on 26 November 2008 on a business trip. It was supposed to be a short four-day business trip.
She did not return to the Philippines until 88 days later.
That fateful day of 29 November 2008, Margie's husband Chet, owner of a magazine publishing company, received a call from Margie's hosts in India. Margie was frothing at the mouth and fell unconscious. It was an apparent aneurism. In a blink of an eye, Chet's life – and the life of his family – was instantly changed.
Chet left everything – his business, his home, his kids – and went to India to be with his wife.
The arduous 11-hour trip to India was truly frightening for Chet: he didn't know if he was going to find Margie still alive. Margie stayed at the Fortis Escorts Hospital in Faridabad, the industrial district of the state of Haryana, about an hour's drive from the Indian capital of New Delhi.
When he got to the hospital, Margie was in a coma. "Margie, my beloved wife of 17 years, mother of our three children, whom I kissed goodbye just days ago… was there… She was in a coma."
He kept a daily email journal of the entire ordeal, writing email updates about Margie's conditions to a mailing list that spread and swelled to 300, including friends and strangers alike. His daily updates sparked a mini prayer campaign for Margie. The daily journals were compiled into a book, "88 Days in India".
Full-Time Husband for 88 Days
For the next 88 days, Chet carried the seemingly unbearable cross of Margie's life-threatening condition. Margie suffered two episodes of brain hemorrhage due to aneurysm, two bouts with hydrocephalus, a life-threatening battle with meningitis, and a dreadful bedsore.
The bleeding in Margie's brain caused temporary brain damage. As a result, Margie's bodily functions were impaired. She couldn't talk, walk or move her limbs properly.
For the next 88 days, Chet became a full-time husband to Margie in every sense of the word: he fed her, sang to her, cried with her, watched her sleep, watched her wake up, prayed with her. He lived his wedding vows to the full: for better or for worse, in sickness or in health, till death do us part.
Unshakeable Faith
Chet's faith sustained him throughout the ordeal. In the Philippines, he attended mass every day. Thus, on his first day in India, after visiting Margie and settling down in the hotel, the first thing Chet did was to look for a nearby Catholic Church.
It seemed unlikely that he would find a church in that seemingly forsaken place: "The dust all around was intimidating, and the cold was biting." He felt a close affinity with St. Joseph, to whom he has had a special devotion since he became a husband and father. In the 11-hour plane trip to India, it struck him that he found himself in pretty much the same situation Joseph faced during the first Advent of history: going to a strange land, caring for his wife… waiting for Jesus.
Lo and behold, the name of the Catholic Church near his hospital: St. Joseph Parish Church! There was no English mass in that particular church, so instead he attended daily mass in a nearby Catholic school run by Carmelite nuns. The name of the school – St. Joseph Catholic School. Indeed, there are no coincidences with Divine Providence.
His daily ritual in Faridabad was to wake up at 5 in the morning, brave the cold, dark and dusty streets, motorbike to the convent with a priest to hear daily mass, have breakfast with the Carmelite nuns, then go back to the hospital to be with Margie. Chet writes in his book:
What was I doing in India? Alone in a strange place with strange people – no, I was the stranger – and my wife was in a hospital fighting for her life. It wasn't easy those days to understand what was happening. But then I knew it was also not the time to ask why…

All throughout I was being helped spiritually – by the grace of God I learned not to question why such a thing had befallen my family, which would have been not only a futile exercise but also an occasion to fall into despair.
Expressions of Love
The media today gives a very wrong notion of the true nature of love. In many modern movies, the typical storyline goes like this: boy meets girl for the first time; they go on a date; in the evening, they find themselves in each other's arms; the next day, they're in love; the next week, they marry; after a while, they divorce and move on.
Chet is a wonderful example of what true, marital love is all about – deep, unshakeable love that not only thrives, but in fact grows even stronger in the face of the most difficult conditions.
One particularly depressing day, Chet shared in his journal what he described as an "overwhelming" wonderful favor he received. He heard his wife speak, albeit in a croaky whisper: "What is that?" referring to the big syringe the nurse was thrusting in one of her tubes. Chet ecstatically writes: "It was such a great reassurance after a whole day of not getting much response from her – an undeserved gift to one still lacking in faith… and patience."
Chet would often whisper to Margie's ear, telling her over and over again that he loved her. In one visit, Chet told Margie that she was beautiful and would like to marry her. Margie, though somewhat not quite herself yet, mumbled, "I'm a married woman."
Day 11 of Chet's journal started with big, bold letters screaming at the top of the page, in all caps: "SHE KISSED ME! SHE KISSED ME!" Chet continues:
I asked Margie for a smile, and I couldn't believe it when she made that familiar stingy grin when she didn't want to smile at me back home. I was so happy and whatever got into me, I pushed my luck. 'Can I have a kiss?' She puckered her lips as if to kiss. I gave her my check and there came the big smackeroo.
The Children
The entire experience was overwhelming and painful for Chet's teenage children. Their eldest son, 17-year-old Mark, wrote a moving letter to his mom, which Chet read aloud to Margie:
We need you here at home, Ma. We all miss you and you have to come home…

Who will write us notes and stick them to our lunch boxes? You have to come home… I'm marching four months from now. You have to be there… Honestly I don't even know when we last had a 'real' conversation. But everyone deserves a second chance. You deserve a second chance to live an even better life than the one you've been living. I deserve a second chance to talk to you more and spend more time with you.

We need you in the house! Without you, there are no sweets here. Papa won't give. There are three huge bars of chocolate in the ref and they're for you to open! You have to come home. We're supposed to go through my college life together. Please come home, please! I'll give anything to have another minute with you.
Sustained by the Rosary
The Rosary sustained Chet throughout the ordeal. In Day 13 of his journal, Chet narrated "by far the most moving experience" he's had since the journey started. Chet was praying the Rosary aloud for Margie to hear. Her eyes were closed, although he knew that she was awake. Then, beginning on the second mystery, Margie started saying the Hail Mary with Chet. It was the first time since the start of the ordeal that Margie was able to join Chet in prayers.
Chet, overwhelmed with joy, called his children immediately – his children happily shared that they prayed the rosary as well, at about the same time Margie joined the rosary with Chet for the first time.
In one particularly difficult day, Margie was breathing heavily and seemed very agitated. She was unfocused, incoherent. Chet started to pray the Rosary aloud very slowly so that she could follow. "I saw her paying close attention, and her alertness increased as she shifted her eyes to her surroundings and back to me." After a few Hail Mary's, she was calm and focused again.
Offering Her Pain to the Lord
Margie had to undergo painful physiotherapy sessions. During those sessions, with her entire body shaking in pain, Chet would talk to her and remind her to turn her pain into prayer. With each violent pull by the therapist, causing much pain, Margie would answer with a "yes," signifying her assent to Chet's call for her to turn her pain into prayer. The more painful the pull by the therapist, the louder Margie's "Yes".
In other sessions, Chet would guide her to offer her pain for specific intentions: "This next one is for Mark – here it comes… Here's one for Patricia… This one is for Catherine, she's sick." Grimacing in pain, she would reply in between gasps, "Yes… okay."
A Happy Ending
Eventually, against all odds, Margie recovered. The ICU doctors who handled Margie's case in India were all amazed at her recovery. It was the fastest recovery they had ever seen in their entire career, given her condition.
The story of Margie's recovery is a story of love and providence. It is the story of true love – the unshakeable love of a husband for his wife. It is also the story of faith in Divine Providence. Today, Margie has recovered her mental faculties, is slowly recovering physically, and in fact is already able to attend mass once again with her family.
Chet's prayers today have taken on a new dimension – that of discerning how they can repay God for the gift of Margie's recovery: "Margie's battle scars are a testimony to Divine Providence… In His mercy, He willed to keep her alive. What God wants for this gift will be the object of my family's discernment."
Upon his return to India, a friend of Chet asked him what it was like to "go through hell". Chet's response: "No, I could barely see it that way. Instead, I could better describe the Indian experience and the life we now have as a family… as rather closer to being 'heavenly'… India was, for me, the means used by God for my purification, for Margie and our children's and that of others."
Day 89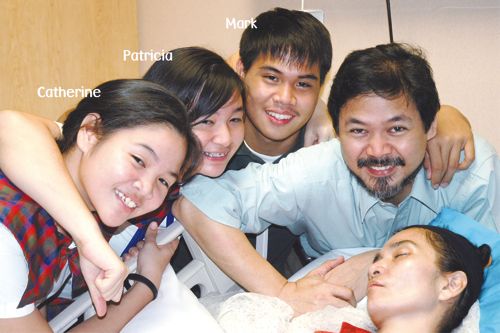 Chet's last journal entry, Day 89, says it all. There are no words – just a picture of the happy, smiling faces of a reunited family. 
---
The Second Coming of Christ will take place in your lifetime.

According to this book which contains a series of incredible messages and prophecies to an Irish seer, our present generation will witness the Second Coming of Christ.

Click here to read a book review that summarises the key messages of the book.
---
---
---
Get our Free Newsletter!
Get the latest articles straight to your inbox - Free!
Click here to return from A Marriage Story to Inspirational Stories.