Theologian Speaks on Mary Coredemptrix and Marian Consecration
Last September 2009, prominent theologian Reverend Monsignor Arthur B. Calkins went halfway across the world, traveling from the U.S. to the Philippines, to speak on Mary as Coredemptrix.
Monsignor is a well-known theologian, and works with the Pontifical Commission Ecclesia Dei. He is a native of Pennsylvania, U.S.A. He has a master's degree in theology from the Catholic University of America, a licentiate in sacred theology with specialization in Mariology from the International Marian Research Institute in Dayton and a doctorate for which he earned summa cum laude in the same field from the Pontifical Theological Faculty of St. Bonaventure in Rome.
Below are excerpts of our interview: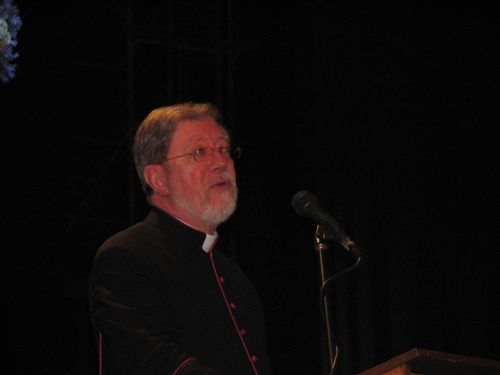 Totus Tuus, Maria (TTM): You've traveled halfway across the world to be here. How important is this trip for you and what do you wish to accomplish?
MSGR. CALKINS: I'm always happy to testify to Mary as Coredemptrix - to the reality of Our Lady's active participation in the work of our redemption because, unfortunately, it is not always well known even by the religious.
In my humble estimation, after the Second Vatican Council, in virtually every area of the Church, the interpretation of the Council fell into the wrong hands. We fell into a very minimalist interpretation of Marian doctrine. Virtually all of the Mariological Societies that I'm aware of, although I think the Spanish is an exemption, have all eventually taken that minimalist mind especially when you talk about Marian co redemption.
I think it's important to share the Church's proper understanding of Mary as Coredemptrix, Mediatrix and Advocate. I do believe that until the doctrine of Our Lady's active collaboration in the work of the redemption is taught, preached, proclaimed, celebrated and solemnly defined, the chaos in the Church and in the world will not stop.
Some of that I have to admit is private conviction. It is, however, also a part of the messages of the approved apparitions of Our Lady (of all Nations) in Amsterdam. That may seem like a big mouthful, but I am convinced that it is absolutely important.
TTM: Despite the outpouring of support for the Movement to petition the Pope to declare the fifth Marian dogma of Mary as Coredemptrix, Mediatrix and Advocate, it seems that within the Church hierarchy itself there is a great debate going on.
MSGR.CALKINS: I think there is indifference and even hostility.
TTM: Why the indifference and hostility, particularly towards the idea of Mary as Coredemptrix?
MSGR. CALKINS: I think it is precisely a result of what I have been talking about for the past 40 years. Many religious have been formed in the wake of Vatican II and there is a genuine ignorance on this area and even hostility because some think this is negative and against ecumenism.
On the other hand, I am also convinced that the Holy Spirit can change hearts very quickly if these were open. I would love to live to see the doctrine of Mary as Coredemptrix, Mediatrix and Advocate proclaimed as Dogma. I believe the theological work has been done, and I humbly admit that I have been doing this for the past 15 years with Dr. Miravalle and a number of other people.
TTM: How about the present Pope, Benedict XVI? How open is he to the doctrine of Mary as Coredemptrix?
MSGR.CALKINS: I do think there has been a great "Marian conversion" on the part of our Pope, although that might be too strong a word to use. But it is clear that he has broadened his understanding of Mary's role in the Church and proclaimed this understanding in ways that Cardinal Ratzinger never did.
Now, whether he will actually use the word Coredemptrix I don't know. But for instance when he was in Brazil two years ago, he made a statement that Cardinal Ratzinger never made. It was during the canonization of a Brazilian friar. On that occasion, he effectively stated that every grace that is given to us is a fruit of Mary's maternal mediation. He is clearly teaching about her collaboration on the work of redemption.
TTM: Is a papal proclamation of the doctrine as dogma of Mary as Coredemptrix, Mediatrix and Advocate seen as imminent?
MSGR. CALKINS: I would love to see it happen tomorrow, but it's not going to happen tomorrow. I don't think the situation is ripe and that is why I think I must do whatever I can to help make the situation right. I do believe that there is a more fertile openness to the doctrine of Mary's co-redemption in a place like the Philippines than in other countries.
TTM: Have you always believed in the doctrine of Mary as Coredemptrix ever since you became a priest?
MSGR.CALKINS: Upon ordination, I had been scared out of my wits by the idea of Mary as Coredemptrix. I was absolutely opposed to it, out of ignorance.
TTM: What changed your mindset?
MSGR. CALKINS: Well, I had a Marian conversion back in 1978, around 21 years ago. The Marian Movement of Priests of Fr. Stefano Gobbi was instrumental in my Marian conversion. I made an active total consecration to Our Lady.
Since then, I have continued to study the doctrine of Marian consecration - what it means and what it entails. My thesis was about Marian consecration. I studied the teaching of Pope John Paul II, asking myself the question: Is there a developed doctrine on Marian consecration in all the teachings of Pope John Paul II, in his speeches, Angelus addresses, homilies and writings? I saw that there was a very coherent doctrine, even if it was not presented altogether in one place. The living reality of Marian consecration immediately opened me up to mediation. In order to understand Marian consecration, we have to understand the concept of "mediation". The most direct way to Jesus is precisely through Mary.
TTM: On a personal note, writing about consecration to Mary is one thing, but living it is another. How do you live your consecration to Mary?
MSGR.CALKINS: Well, I would like to say that I live it fully and totally. Totus tuus ego sum, et omnia mea tua sunt. "I am all yours and all that I have is yours." St. Louis de Montfort showed us that Marian consecration means living in constant union with Mary who mediates our union with Christ. It therefore involves a constant ongoing conversation with Jesus and Mary all throughout the day. When I fall out of that conversation, I am in trouble.
Have I mastered this way of living so that I am always explicitly trying to live in communion with Jesus and Mary? No, I still have to struggle. And when I ignore it entirely, I fall into sin. So it is a struggle to continue learning how to live it.
But despite my own lack of collaboration in this work of my personal redemption, there are so many indications of how Our Lady has intervened in my life. She takes me more seriously than I take her! I have to learn how to continue trying to be more conscious of my union with Jesus and Mary.
TTM: There may be many - even among the clergy - who are somewhere in between being a Marian minimalist and a full-fledged Marian devotee who consecrates himself to Mary. They include those who know the importance of Mary in the life of a Catholic, but who nonetheless still hesitate to give themselves totally to Our Lady because of many biases. What advice can you give to help a person make the "jump" to full Marian consecration?
MSGR. CALKINS: I remember two things that were instrumental in my own Marian conversion. They were both through Fr. George Kosicki, who has become a great apostle of Divine Mercy. When I was hedging before I made this Marian consecration, he said two things:
First of all, do not hesitate to take Mary to yourself, for That which is conceived in her is of the Holy Spirit. It is an application of what the angel said to Joseph. It is a personalization of it. Second, he quoted a notable cardinal who once said: "If God has given a special role to Mary, who are we to tell Him that He can't?"
I would add a third note. In John 19:27, Jesus gives us His mother from the cross—to take her into the home of our hearts and to allow her free reign.


---
Subscribe Now to our Free E-Newsletter!
Get the latest articles on the Blessed Virgin Mary, Our Lord Jesus, and the Catholic Faith, straight to your inbox - Free!
---
Click here to return from Mary Coredemptrix to Understanding Mary.