Perfect Love, Perfect Time: A Real Miracle Story
By Meredith Paguntalan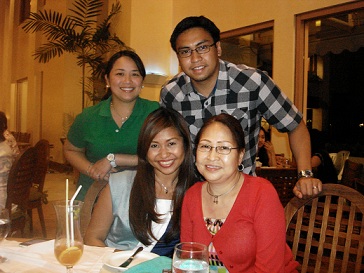 A series of lab tests and a CT scan I underwent in July last year revealed a diagnosis that would change my life forever. Results showed a cyst in my right ovary, a growth or stone in my kidney and worse - a new growth in my pancreas.
My urologist assured me that there was nothing to worry about my renal cyst because it was safe and not hampering with my kidney function. But he urged me to go and see a cancer specialist with regard to my new growth in the pancreas.
Luckily, my brother-in-law is a general and cancer surgeon. He showed my results to his good friend who is a liver and pancreas disease specialist in the University of the Philippines General Hospital (UP-PGH). The specialist said it is best to remove the growth right away through surgery but my brother-in-law didn't tell me at first. He wanted to review my results once again so he could diagnose better. Unfortunately, he saw that the new growth is actually a tumor because it is 3cm in size. It was lobulated, like a bunch of grapes, and it had not yet attached to any organ in my stomach area. He discouraged biopsy because my intestines might get punctured by the instrument.
My surgeon gave me books to read about my condition to help me decide. I learned that diseases of the pancreas are difficult to detect, even with the whole abdomen ultrasound, because this organ is hidden behind the intestines. I was lucky because I had the CT scan with dye (not usually done during ordinary routine check-ups) which revealed my tumor. Usually cancer of the pancreas is at its end stage when diagnosed, when the patient is already feeling the pain, discomfort or other symptoms.
The surgeon also encouraged me to seek a second opinion. So I went to Makati Medical Center and sought a second opinion but did not tell the doctor that I was seeking one. I just showed my CT scan results and CD to him and he explained to me the same information I read from the anatomy books. He also wanted to do surgery. But when he told me the cost of the surgery is P1 million, I told him I could not afford it.
A month after, I decided to have the surgery. My surgeon built his team and in September, I went on all pre-operation clearance tests. It was difficult for me to pass cardio because I couldn't pass the treadmill stress test. My cardio ordered an expensive Doby Stress test which I passed with flying colors. I was cleared and my operation was scheduled October 3, 2011.
I saw the hand of the Lord at work during those months that I struggled. The Holy Spirit prompted my daughter to urge me to go have my executive check up, wherein the tumor of my pancreas was an incidental finding. He led me to see expert people with compassion and enlightened me on making the right decision. It was a test of my faith in God. When I received the bad news, I was devastated and I was tempted to question Him. I don't drink. I don't smoke. I don't stay out late. No vices - just a sweet tooth. And yet - why this? But then, shamefaced, I could not and did not complain. He has taken care of me and my family so well. I just decided to trust Him, and cling to the hope that He will never leave or forsake me.
I go to daily Mass frequently and once, I passed by the parish bookstore. I remembered a late friend who gave her other friend a St. Padre Pio novena because the latter's husband was suffering from Stage 4 colon cancer. This colon cancer patient survived and even outlived my friend who gave the novena. St. Padre Pio miraculously interceded for the cancer colon patient. So I said: why not buy and pray the novena to St. Padre Pio? I did the novena prayers.
Then, my daughter attended a party on September 18 where she met the daughter of the man who built the St. Padre Pio Shrine at Libis. She talked about the preparations for September 23, Padre Pio's feast day. My daughter excitedly told me about this and I felt a desire to go. Even though our car was "color coding" that day, I decided to push through with the trip.
There were a lot of people at the Shrine when we arrived. I lined up for an hour to be able to go to Padre Pio's statue and pray to him. We stayed for the 5 p.m. Mass officiated by Bishop Teodoro Bacani.
When the 5pm Mass began and we were singing the entrance hymn, I felt an extraordinary sense of joy when Bishop Bacani passed by our pews. When we sang the Gloria, I couldn't explain or understand why I felt so euphoric. I was shedding tears of joy as if my breathing would stop. In awe, I asked God if this was the feeling one has if already in heaven praising Him. After the Gloria, I felt normal till the Mass ended.
My operation went on as scheduled October 3. What happened while I was on the operating table was God's handiwork! An hour after they took me from my room, a resident came rushing back to my room to get my CT scan CD. Then 30 minutes after, they were calling for my husband to the operating room. While on his way to the OR, my husband was nervous. Something wrong must have happened and they wished to speak to the next of kin. When he got to the OR, my brother-in-law, the surgeon, and three other doctors told my husband, "Sir, we cannot find the cyst, there is no more tumor or any growth inside."
It was incredible! To be certain, they did a direct ultrasound on my exposed pancreas two times with different ultrasound machines. But indeed, I was cured! Even the cyst in my right ovary which has been there since 2009 was gone.
To an unbelieving layman, there probably was a misdiagnosis. But for me and my family, I received a miracle and grace from God. My faith in the Lord saved me! I believe that when I was praising God during the Gloria, He opened the gates of heaven and poured out His healing graces on me – through the intercession of St. Padre Pio.
Oh, how sweet surrender to the Will of the Lord can be. My victory is your victory, too. It only goes to show that even a sinner like me can always approach God's throne of Grace; if He marks iniquities, no one amongst us can stand before Him.
We all serve a God who loves unconditionally, impartially, whose mercy and compassion is boundless and whose Grace and Blessings are overflowing. Even during times when our human comprehension cannot understand why these things are happening in our lives, why suddenly we have a problem or trouble we didn't court at all, we just have to humbly trust in Him whose Perfect Love and Perfect Time never fail!
---
---
Get our Free Newsletter!
Get the latest articles straight to your inbox - Free!
Click here to return from Real Miracle Story to Inspirational Stories.