Saint Dominic: His Mother's Favorite Child
By Nora V. Clemente-Arnaldo


Just like any caring and loving mother, Doña Jane de Guzman wanted her favorite child to be successful. There were moments though when she wondered what the future held for him. She was always having the strangest dreams about him as she would see him with a bright light shining round his head and his eyes aflame as though he were seeing things which only he could see. Sometimes she would hear voices calling out, "It is Dominic de Guzman who is going to speak. We must come and see him."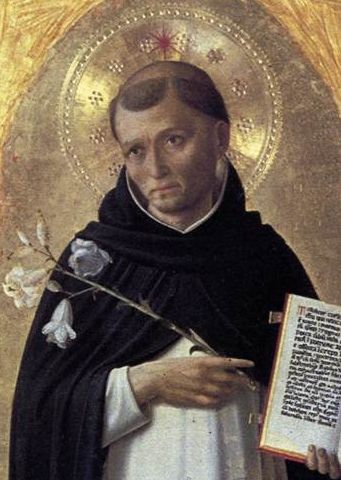 But most often, according to M.V. Woodgate's "Saint Dominic," she had a dream which did not seem to be connected with him at all. It was of a little dog with a flaming torch coming out of its mouth. To her, it was such a funny little animal that she could not help but laugh at it. Yet, when she described it to a wise woman who lived in the town, the latter did not laugh. She said that the appearance of this dog meant that her favorite child would someday speak words so wonderful that they would set the world on fire.
Fighting the Albigensian Heresy
Dominic was born to Doña Jane and Don Felix de Guzman in the year 1170 in Calaroga in old Castille, Spain. Coming from a prosperous family, his parents wanted this intelligent child to be a priest, and to have a proper education.
Time came when Dominic finished his studies in the town of Palermo, and he received the habit of the Regular Canons of St. Augustine in the Diocese of Osma. In 1203, Saint Dominic and Diego, the Bishop of Lima, were sent on a mission to Denmark by the Spanish King, Alphonsus IX.
While traveling through France, they became acquainted with the raging Albigensian (or Cathari) heresy. The owner of the inn where they stayed for the night was a staunch believer of this heresy. Dominic explained to him the teachings of the Church logically and systematically until the man was fully convinced.
Let us take a brief look at the Albigensian heresy so that we will understand the strong determination of Saint Dominic and his followers to crush this for the sake of the Church. Rev. Alfred McBride, O.Praem in "Saints Are People" explains in detail.
This heresy was a revival of the Manichaean sect to which St. Augustine (354-430) had previously belonged. Because their central headquarters was at Albi, the believers were also called Albigensians. Dominic noted that they dominated the newly-created weaving industries and made membership in their religion a requirement to become apprentices.
He saw how they controlled the sales booths at fairs and markets, and how they made their houses as schools making education of the young a method for making converts. They rejected the Catholic sacraments and replaced them with their own rites. Their principal ritual was the Consolamentum – a kind of general absolution from sins at the hour of death.
The Albigensians had the so-called "perfected" elites who pledged to devote their life to God and the Gospel, never to have sex, never kill an animal, and never to eat meat. They justified suicide for the terminally ill.
Dominic's Followers: the Dominicans
In the year 1206, Dominic and Diego began to preach throughout the French countryside. To help his followers, Saint Dominic built a monastery and convent at Prouille, and a second monastery in the city of Toulouse.
Dominic sought out the papal legates who had been appointed to combat the Albigensian heresy. He found out that they were seriously discouraged and ready to quit. Why? Diego and Saint Dominic found out that these legates traveled like princes with a costly retinue. Their preaching was uninspired and they failed to present a challenging alternative to the zeal of the Albigensians.
So the imaginative Dominic conceived of a model for their missionary work patterned after the apostles of Jesus – traveling in twos on foot, without money, preaching wherever there is an audience, exemplifying the gospel ideals of faith and charity. The missionaries would be well-trained in theology and skilled in communications.
Dominic traveled to Rome for the approval of the Order. The pope advised Dominic to come back the following year because the new congregation had to be considered first, and debated upon by a company of cardinals and bishops. This did not discourage Saint Dominic. He trusted the Lord. That evening, according to Woodgate, Dominic had a wonderful dream. He was in Heaven and he saw our dear Lady. He saw that she had also spoken to someone else, a man standing at his side.
The following day, in the crowded streets of Rome, Saint Dominic's glance fell upon a figure who was poorly dressed. SaintDominic looked at his face and recognized that here was the man in his dream!
He stopped the man and spoke to him. He learned he was Francis Bernardone, who would be known to the world later as St. Francis of Assisi. He told Bernardone of his dream: "In Heaven, Our Lady was presenting us both to her Son as messengers of mercy to the world. You and I should regard ourselves as comrades." They lingered together and kissed each other when they parted.
With the death of Pope Innocent III, it was the new pope, Honorius, who gave the official papal approval to Dominic to establish the Order of Preachers (the Dominican Order) in 1216. While in Rome, Dominic preached extensively. People flocked to him.
In one of his midnight vigils, Woodgate gives an account of Dominic's vision. As Saint Dominic was deep in prayer, the dark church was suddenly illuminated by a supernatural light and the figures of Saints Peter and Paul appeared before the altar where Saint Dominic knelt. Saint Peter blessed him and handed him a staff; Saint Paul handed him a book. "Go forth and preach for God has chosen you for this ministry," Saint Peter said. Then the two figures faded and Saint Dominic saw his followers going off to the whole world.
It was crystal-clear in this vision, the path the Lord wanted Saint Dominic to follow. It was on the feast of the Assumption, August 15, when Dominic gave the marching orders to his followers, now popularly known as Dominicans. Some went to Paris, to Spain, while others remained in Toulouse.
Meanwhile, age was catching up with Saint Dominic. He always pretended that he was strong but sometimes he would fall asleep in the middle of a meal, or he would be found asleep on the floor of a church. His mission faithfully accomplished, Saint Dominic died peacefully at the age of 52. He was canonized in 1234 by Pope Gregory IX.
Let us remember that Saint Dominic had a great love for the Blessed Mother. He and his followers were devoted to the rosary. They also spread this beautiful devotion.
The life of Saint Dominic has validated the spiritual significance of the strange dreams of his beloved mother and the old woman's wise interpretation of the "funny" dog with a flaming torch coming out of its mouth.
Saint Dominic, outstanding preacher of truth, is frequently pictured with a staff, a book, and a dog with a torch in its mouth, symbolizing the fire of his zeal for souls.
---
Subscribe Now to our Free E-Newsletter!
Get the latest articles on the Blessed Virgin Mary, Our Lord Jesus Christ, and the Catholic Faith, straight to your email inbox - Free

---
Click here to return from Saint Dominic to Roman Catholic Saints.