Saint Faustina and the Devotion to the Divine Mercy
By Lourdes R. Policarpio


The Diary of Saint Faustina Kowalska of the Congregation of Sisters of Our Lady of Mercy is the basis for the Divine Mercy devotion which has rapidly spread throughout the world. It consists of six notebooks written by Saint Faustina at the command of the Lord Jesus. Sister Faustina's confessor, Fr. Michael Sopocko, without realizing he was echoing the Lord, later said: "I had no time to listen to her (Sister Faustina's) lengthy confessions at the confessional, so I told her to write everything down and then to show it to me from time to time. This is how the Diary came into being."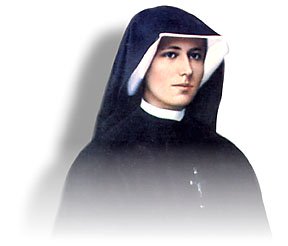 Saint Faustina's notebooks are valuable not only for an explanation of how the devotion to Jesus, the Divine Mercy came about. So many pages of the Diary are insights into the spiritual life which are very useful especially for contemplatives. Furthermore, Saint Faustina's experiences of hell, purgatory and heaven partially lift the veil to eternity. Most of all, the Diary gives us a glimpse of the Lord Jesus, especially as a teacher of the spiritual life and as Divine Mercy itself. Mercy, he explains, is the greatest attribute of God.
The book is not easy reading! My copy, a thick one, consists of 600 pages and, at P600, may not be affordable to everyone. The purpose of this article is to enable the readers to have an overview of the Diary and of the Divine Mercy devotion itself. It will hardly suffice, of course, but considering our hectic times and the lack of time of people to read voluminous books, this short article may help.
Who was Helen Kowalska?
Saint Faustina was Helen Kowalska, the third of ten children in a poor but pious peasant family in rural Poland. She was pious from childhood but being born to a poor family, had hardly three years of schooling. At the age of fourteen, she left the family to serve as a domestic in the nearby cities. This aspect of Saint Faustina's life is very important. Realizing her lack of a good education, her inspired, even lyrical, praises to God found in her Diary would only lead one to conclude that she was very much guided by the Holy Spirit.
Her piety started even during her childhood years. She recounts that when she was seven years old, at a Vesper Service before the Blessed Sacrament, "the love of God was imparted to me for the first time and filled my little heart." At the age of eighteen, she told her parents she wanted to enter a convent but they refused. And thus, Helen sought to stifle the divine call, shunning God interiorly, though she was unhappy and restless.
Finally, the Lord Jesus manifested himself to her in an unconventional setting–in a dance she attended with one of her sisters. She narrates: "As I began to dance, I suddenly saw Jesus at my side, Jesus racked with pain, stripped of His clothing, all covered with wounds, who spoke these words to me, `How long shall I put up with you and how long will you keep putting me off?' At that moment the charming music stopped, the company I was with vanished from my sight; there remained Jesus and I."
Nothing could be plainer than this! She rushed to a cathedral to pray and was told by the Lord to go to Warsaw and enter a convent. Obeying with haste, she was unable to bid goodbye to her parents and left with no belongings, only the dress she had on.
After a brief interval during which she searched for a convent and worked as a domestic, Helen was finally accepted to the Congregation of the Sisters of Our Lady of Mercy on 1 August 1925, at the age of 20.
The Devotion to the Divine Mercy
Unlike other saints whose encounters with the divine could be counted on the fingers, Sr. Faustina saw and talked to the Lord frequently. But her specific mission, the Divine Mercy devotion, was introduced by the Lord on 22 February 1931, six years after she entered the convent. One evening, she saw Jesus (in the manner we see Him now in Divine Mercy paintings) who instructed her: "Paint an image according to the pattern you see, with the signature: Jesus, I trust in You. I desire that this image be venerated, first in your chapel, and then throughout the world."
The Chaplet of the Divine Mercy came about in a dramatic way on 13 September 1935. Let us turn to Sr. Faustina's exact words in the Diary:
In the evening, when I was in my cell, I saw an Angel, the executor of divine wrath… From the cloud, bolts of thunder and flashes of lightning were springing into his hands; and from his hands they were going forth, and only then were they striking the earth. When I saw this sign of divine wrath which was about to strike the earth, and in particular a certain place, which for good reasons I cannot name, I began to implore the angel to hold off for a few moments and the world would do penance. But my plea was a mere nothing in the face of the divine anger. Just then I saw the Most Holy Trinity… At that very moment I felt in my soul the power of Jesus' grace, which dwells in my soul. When I became conscious of this grace, I was instantly snatched up before the Throne of God. Oh, how great is our Lord and God and how incomprehensible His holiness! …I found myself pleading with God for the world with words heard interiorly…Eternal Father, I offer You the Body and Blood, Soul and Divinity of Your dearly beloved Son, our Lord Jesus Christ for our sins and those of the whole world; for the sake of his sorrowful Passion, have mercy on us.

As I was praying in this manner, I saw the Angel's helplessness: he could not carry out the just punishment which was rightly due for sins. Never before had I prayed with such inner power as I did then.
Sr. Faustina writes that the next morning, as she entered the chapel, it was then that the whole prayer of the Chaplet prayed on Rosary beads was taught her, in words she heard interiorly.
Regarding the Three O'clock Prayer, this was the Lord's summons to her: "At three o'clock, implore my mercy, especially for sinners; and, if only for a brief moment, immerse yourself in my Passion, particularly in my abandonment at the moment of agony. This is the hour of great mercy for the whole world. I will allow you to enter into my mortal sorrow. In this hour, I will refuse nothing to the soul that makes a request of me in virtue of my Passion…"
It was one thing for Sr. Faustina to write these things in her Diary and another to convey the Lord Jesus' words to her superiors and see to it that the Lord's instructions were met with action. The latter was much more difficult but as if to emphasize also how everything meant to the Lord who was spurring her on, Sr. Faustina quotes Him telling her: "Know that if you neglect the matter of the painting of the image and the whole work of mercy, you will have to answer for a multitude of souls on the day of judgment."
St. Faustina's Interior Life
The Diary of Saint Faustina runs to 600 pages not just because it is an exposition of the origin of the Divine Mercy prayers. Much of it consists of the spirituality of Saint Faustina, her interior struggles, the interaction between student and Master, and the saint's praises and rapturous hymns to God.
Like many visionaries, Saint Faustina was met with disbelief and derision, especially by the other sisters in the convent. Reading the accounts of her humiliations and persecutions from other nuns, you would be surprised to see envy and lack of Christian charity even in convents. Referring to her reputed intimacy with the Lord, one of the older nuns told her, "Get it out of your head, Sister, that the Lord Jesus might be communing in such an intimate way with such a miserable bundle of imperfections as you! Bear in mind that it is only with holy souls that the Lord Jesus communes in this way!"
One day, tired with all the uncertainties and disbelief she met, she asked Jesus, "Jesus, are you my God or some kind of phantom? Because my Superiors say that there are all sorts of illusions and phantoms."
As a contemplative nun, Saint Faustina had to abide by the rules of the congregation, foremost of which was the rule of silence. She writes, "The tongue is a small member, but it does big things. A religious who does not keep silence will never attain holiness… Sometimes we kill with the tongue; we commit murders." While this advice should be taken to heart by monks and nuns, it would also be good for us lay people to take notice!
While ordinary lay readers will find Saint Faustina to be so high up the spiritual ladder to be a role model, some of her outstanding qualities, like her love for the Lord and her desire for union with Him, are for all. Her raptures of love and praise may not be understood by us who have not experienced such mystical encounters but it should serve to remind us of what we must strive for, of what we are still missing in our lives.
As a matter of fact, reading the Diary, you will conclude that while Saint Faustina lived on earth, half of the time her spirit was already in the spiritual plane. She saw the Lord at times with her eyes but also on some occasions in a purely interior manner, in a purely spiritual way, independent of the senses. Consequently, this Polish nun who had little schooling is considered by theologians as one of the outstanding mystics of the Church.
Why Propagate this Devotion?
Let me go beyond the Diary and ask why we, especially priests, should propagate this devotion. While it could be said that the Church has accepted the devotional prayers, instituted the Feast of Mercy after Easter Sunday, and canonized Saint Faustina, much still remains to be done. The Chaplet and Three O'clock prayers are personal prayers which could be said all throughout the year and we ask: how many really pray in these hectic times? While the Feast of Mercy is already in the church calendar, I have observed it is sometimes drowned in a sea of Holy Week activities in the parish so much so that it does not really gain the prominence it deserves.
One drawback I have also observed is the tendency of some, even priests, to frown on devotional prayers (including the Rosary), saying these things are for the old folk and emphasizing the importance of the Holy Mass. Undoubtedly, the Mass is the most important prayer. However, the Chaplet is not supposed to replace or diminish the importance of the Mass. Reading the Diary you will be overwhelmed by the ardor of Saint Faustina for the Holy Eucharist. Loving the Divine Mercy prayers does not mean loving the Mass less. The Chaplet and Three O'clock Prayers, however, add to the rich treasury of prayers of the Church. With their brevity, they fit our frenzied times. We cannot all go to Mass everyday but we can unite for one minute at 3:00 p.m. to say the Three O'clock Prayer. If millions of us do that everyday, what a powerful prayer to God that would be!
The strongest argument for Divine Mercy comes from what the Lord says to Saint Faustina: "Be at peace, daughter. This Work of mercy is mine; there is nothing of you in it." If ever we propagate it then, we are merely obeying the Master.
Divine Wisdom has given us short, powerful prayers for this oh-too-frenetic world. Looking at all the grievous sins of humanity, especially abortions, other sins against life in the womb, and homosexuality, we can only realize there is an urgent need to implore God's mercy. In this light, devotees, even the lay, should realize that in saying the Divine Mercy prayers, they, like Saint Faustina, are standing before God, imploring His mercy for our sinful world and praying that His Divine Wrath may be appeased. What a serious and grave task this is!
While in the Diary Saint Faustina cites the religious (especially the contemplative nuns, I suppose) as the ones holding back God's arm against the world, I have noticed a unique phenomenon, maybe true in the Philippines only. We have been giving out wallet-size copies of the Divine Mercy and Rosary prayer guides–around 1.7 million to date. Out of 20 people who call up asking for copies because they want to propagate the devotion, 19 are lay people! I can only surmise this is Divine Mercy at work again–the Lord Jesus calling the little ones, not only the priests and nuns.
Divine Mercy in Our Lives
Reading the Bible, you will find Jesus interacting with the people during that time. Looking down at the world in these our times, what does the Lord have to say? Through Saint Faustina, His messenger of mercy, He says: "In the Old Testament, I sent prophets wielding thunderbolts to My people. Today I am sending you with My mercy to the people of the whole world. I do not want to punish aching mankind, but I desire to heal it, pressing it to My Merciful Heart."
If you go to Mass on Sundays only because you do not have time anymore and are burdened with the anxieties in life… if you are sometimes overwhelmed by your personal cares and the difficulties you meet in the environment… if you feel you are a mere human being, weak and sinful, and hardly able to do a noble thing… if you want to help a friend or relative in dire need–call on Jesus, the Divine Mercy. He reserved His greatest attribute – Mercy – for our times, for you and me.

---
Subscribe Now to our Free E-Newsletter
Get the latest articles on the Blessed Virgin Mary, Our Lord Jesus Christ, and the Catholic Faith, straight to your email inbox - Free
---
Click here to return from Saint Faustina to Divine Mercy.