The Society of St. Vincent de Paul: 150 Years of Partnership with the Poor in the Philippines
by Edgardo J. Tria Tirona, SSVP Philippines National President (1997 to 2003)
My journey with the Society of St. Vincent de Paul (SSVP) started in 1964, during my college days at Adamson University. I was then 20 years old when a member of the SSVP recruiting team, Bro Ernie Juan, now a retired engineer in Hawaii, invited me to join the lay organization which was all male at that time.
I readily accepted the invitation and became a member of the St. Paul the Apostle Conference based in the Superior Council of the Philippines (now known as the National Council). After a few Conference meetings and readings on the life of its founder Frederic Ozanam and St. Vincent de Paul, I started to appreciate the Vincentian spirituality which did not take long for me to fully embrace.
Those who became members of SSVP received an orientation on the lives of St. Vincent de Paul and Frederic Ozanam and were further instructed on the rudiments of organized charity work through the Ozanam School of Charity. Attending the Ozanam School of Charity in the mid-60s during the term of SSVP president Bro. Paulino Miranda – a businessman with family roots in Spain (he has since gone back to his native land) – led me to a deeper understanding of the SSVP "Rule" as an international organization and greater appreciation of the larger scope of the Vincentian family.
Conference meetings (where we discuss the situation of poor families) were always done with an image of the Blessed Mother on our meeting table, and a lighted candle. Regular home visitations were the main preoccupation of the Conference members; on occasion, the children of the adopted family being visited are assisted in their studies. The existence of make-shift altars in the humble dwellings of the poor with the images of our Mother of Perpetual Help and the Sacred Heart of Jesus is always a sight to behold. We always felt like we were standing on hallowed ground whenever we visited the humble dwellings of our less fortunate friends.
We shared the little that we had or what we could afford in the "secret bag collection" in the spirit of sacrifice, depriving ourselves of an amount, no matter how little, for the poor in our care. Thus we joined our overseas benefactors' generosity, no matter how meager in comparison our donations may be.
Our activities were characterized by utmost simplicity. Following what seemed to be the traditional practice, we shunned the use of identifying pins, banners and anything that would make us stand out in a crowd. The dictum was we would be known, if ever, from the works we did in response to the cry of the poor. Our celebrations were simple too. Agape consisted of simple nourishments which were usually contributed by the more financially capable or affluent members.
SSVP in action
It was also during those times when I recall the SSVP being involved in housing projects for the poor. Some members of the Superior Council joined the members of the Spanish Chamber of Commerce of the Philippines, then led by Don Ramon Faustmann, in building houses for informal settlers who had been relocated in Sapang Palay, Bulacan. Housing units similar to that of Habitat for Humanity, Gawad Kalinga and the Jubilee Homes of the Council of the Laity, were built at a price then of only five thousand pesos. SSVP volunteers assisted in the project by laying out hollow blocks and digging canals around the housing units.
I recall, in particular, Mang Greg, a poor old man who regularly came to the San Marcelino Church to beg. Our Conference decided to "adopt" him through a small livelihood project by providing him with a booklet of sweepstakes to sell. We bought the booklet of tickets at the PCSO main office then located right across the Marian Center. He was to earn the full commission from the sale. Mang Greg was very reluctant at first, fearing that he may not be able to sell the tickets for he had never done any selling before.
However, it did not take long for him to get used to it after successfully selling his first booklet of 50 tickets. In a few months we noticed the improvement in the life of Mang Greg. From a begging, bent old man who looked much older than his 60 years, he transformed himself into a cheerful person eager to work and sustain himself and his young grandson who had been left to him by the poor parents.
A very touching episode in our "partnership" with Mang Greg was that time when he visited the SSVP office one morning. Not only was he sporting a new pair of rubber shoes but he was also wearing a new pair of eyeglasses to replace his old cracked ones. Most significantly, he treated us to a snack of "pan de coco" bread while rubber-stamping several ticket booklets with his own name as a PCSO agent. It so happened that (the late) Rev. Fr. Leandro Montanana, CM, dropped by and we shared with him what Mang Greg had brought. Soon after Mang Greg left to sell his tickets I told Fr. Montanana that the food we enjoyed was fruit of the labor of one who used to beg for food in the church. Fr. Montanana's face brightened as he was obviously delighted by that brief encounter with "poor" Mang Greg.
Responding like to a house on fire!
A day after a great fire hit Tondo that affected thousands of poor families, an SSVP team with a Metro Van filled with donated clothes from Australia rushed to distribute them to the victims. Fortunately, several bundles of it arrived from Australia a few weeks before the fire and were being sorted out according to size. They were very good, secondhand clothing much like the ones being sold at "ukay-ukays". The SSVP team was composed mostly of college students from Adamson while the Metro Van was solicited from the former US Airbase at the Clark Field junkyard in Angeles, Pampanga. SSVP acquired the van by quickly responding to an ad published by the US airbase authorities who were giving away their surplus stuff.
Life and death
The SSVP witnessed the stark reality of life and death along the banks of Estero de Gallina beside the Pius Center building along UN Avenue. Several families had settled there and during a visit by our Conference after a flood, while handing over a bag of relief goods, a boy of about 2 years old fell in the running estero water which was still high at that time. While I shouted in panic, afraid that the boy might drown, the people in the place just looked calmly as one of them went towards where the boy was floating, nonchalantly plucked him out of the water, and handed him to his mother.
As it turned out the incident was no big deal to them. We were told that in some instances, babies who die at birth were just allowed to float away in shoe boxes. Babies are born there without benefit of professional assistance and at times their births are not even registered with the civil authorities. Small wonder then that their deaths are not reported anymore. No record of birth and death, as if they never existed at all.
SSVP on TV
I recall accompanying Bro. Joe Barreto-Vega, one of our SSVP Board members, on one occasion to the late Elvira Manahan's TV show at ABS-CBN. We were interviewed for our SSVP medical and dental missions in some blighted areas of Manila, together with doctors and nurses from the University of Santo Tomas where we had some Conferences. Bro. Joe, who headed the project, was teaching Spanish at Adamson then and was always mistaken for a doctor. It was Bro. Joe who dubbed my old Mazda car as a "charity chariot" because we often use it in our medical missions to pick up donated medicines from some pharmaceutical companies, as well as some of the nurses from UST during these medical missions.
Respecting the poor
We took care to treat our less fortunate with compassion and empathy. Our poor were not treated like mere indigents with the giver handing down goodies or relief goods to the needy who are kept standing in line for some time. We had fun with them too like in the Particular Council of Parañaque where the president was a swimming instructor. The poor children were given swimming lessons during summer. The "swimming pool" was the river at the back of St. Andrews, now a cathedral. Alas, it is not possible to swim there now due to its terribly polluted state.
SSVP today
The SSVP then and now is replete with stories of how Vincentians expressed their love for Christ by seeing Him in the "poorest of the poor" and helping alleviate their misery. Much of the traditions were maintained with new innovations and more radical interventions like standing up with them against criminal injustice.
I recall the intervention we made on behalf of an adopted family who was among those regularly victimized by a so-called "kotong (extortionist) cop". Knowing what we were up against, we made representation all the way up to the office of then President Gloria Macapagal-Arroyo through a text hotline. To cut a long story short, the rogue policeman was arrested in an exciting entrapment operation which we were able to record on tape and was shown on televised news a number of times. The whole incident was in the major newspapers including a number of tabloids that covered the progress of the ensuing investigations. The whole episode also became a part of the regular TV program "Working President" showing the success of networking between a non-government organization and the Government.
The extortionist cop was eventually removed from the rolls and jailed for some time. With the help of Atty. Agnes V. Rivera, head of the Adamson University Legal Aid office, the victims opted for a sum of money offered by the policeman for an amicable settlement. But he is still answerable to the case filed against him by the National Police Commission. We were made to realize the risks we were taking when we were warned that he might get back at us someday. But we felt that in order for the wheels of justice to move, some people have to accept risks. Just like the turtle, it can only move when it sticks its neck out.
"Feeling good"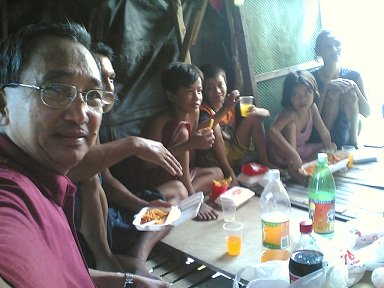 Sometimes we can't help but feel that we are getting more in terms of "feeling good" – that what we are feeling is more than the actual benefit to the poor we are helping. There are times too, I must confess, when in the midst of our Vincentian apostolate work I would ask: What am I doing here while my business associates are using their time enjoying the "good life" and making a lot of money for a comfortable retirement? I must admit this happened once like when I was in a tricycle with Bro. Rico Eusebio, speeding along a highway in Naga City one dark early morning and rains started to whip us. We were on our way to a parish for a meeting with the monsignor later that day.
In another instance I found myself in a situation of complete opposites. I was with Bro. Doug Walsh visiting Mang Pedring in his dark and dingy hovel beside the Asilo one morning. Yet, late in the day, I was in a business suit attending a high-end realty project launching at Manila Golf Club in Forbes Park attended by bigwigs of society and industry. On stage was a model studio unit showing all the amenities of luxurious living costing several million pesos. I couldn't help but recall how Mang Pedring and family were at that very moment.
Authenticity of humble service
But more than the number of years of SSVP's existence in our country, inspired by St. Vincent de Paul's call to hear and respond to the cry of the poor as the "overflow of our love for Christ", how far and faithful have we been during our watch of the Vincentian vineyard where God placed us?
We are aware that our journey with the poor we serve has been fruitful to us as well. We have seen and shared their sufferings as we shared the joy of their thanksgiving. We have seen and felt the injustice they suffered and celebrated their victory as well.
More than just an activity for them we have worked together so that with them we felt their love and esteem. We shared their stories of pain and sorrow as we celebrated with them in their communion with the suffering Christ.
But there are some questions Vincentians must ask themselves to make an occasional "reality check". As lay faithful who have been formed in the image of our founder, Blessed Frederic Ozanam, have we been total in our commitment to the poor we serve or have we been selective of what will make us "feel good"? How faithful are we to the cherished SSVP traditions of Blessed Frederic Ozanam that has propelled the SSVP around the world in its network of charity? Did we spend more on pre- and post-interventions rather than on the intervention itself? Did we exercise diligent stewardship of the funds from our benefactors to maximize the benefits to our less fortunate for whom the funds were intended?
These may seem very personal questions that are not easy to answer for it requires some examination of our intentions. Nonetheless, we must, from time to time, ask ourselves how we are responding to the gift of an opportunity to serve. Even the benefit of personal sanctification should not be expected as a reward but rather left to God, knowing that we are unworthy for what we are doing for His chosen poor will never, ever, be enough.
---
---
Get our Free Newsletter!
Get the latest articles straight to your inbox - Free!
Click here to return from Society of St. Vincent de Paul to Catholic Spirituality.