The Healing Power of Faith
By: Virginia G. Guzman-Manzo, MD
Faith is a powerful physician. Since time immemorial, history has been replete with miraculous cures of actual physical and mental illness or disabilities which could not be explained by medical science but attributed to the power of faith.
At the time of Jesus some 2000 years ago, the gospels gave numerous accounts of miraculous healings simply because of faith in the Divine Healer, Jesus Christ. There is the healing of the two blind men: Then he touched their eyes saying, "According to your faith, be it done to you." And their eyes were opened (Matt. 9:29-30); the blind man in Jericho: "Go your way, your faith made you whole" (Mk. 10:52); the woman suffering from hemorrhage for 12 years: "Daughter, your faith has made you well. Go in peace" (Luke 8:48); the Canaanite woman, "Woman, great is your faith. Be it done to you as you desire" (Matt. 15:28). And there are the many other miraculous healings of paralytics, lepers, people possessed by demons, even the raising from the dead.
In modern times, people have become skeptical and cynical. Many men of science, with their great and intelligent minds, do not believe in divine intervention. They only believe what they can prove in the laboratory by experiments and tests. If they do not get the answer to what they are looking for, they would attribute it to human or technical errors. They would continue looking for an explanation even if it takes them a lifetime but they would never admit that there is an unseen Divine Intelligence which not even their highly skilled and intellectual human minds could fathom.
Recently I attended a seminar where a documentary was shown about well known and highly intelligent scientists trying to expound and explain Darwin's theory of evolution among other things. They were joined by other scientists of different fields and expertise. They conducted countless tests, spending millions of dollars just to study one single cell of the human body. They were stumped several times because they could not find the explanation behind how the many functions and activities of a single cell are brought about precisely and perfectly in a set pattern as if someone perfectly intelligent and omnipotent was manipulating each and every single process. In the end they agreed that there is an Intelligent Design to all of these but because they are men of science who could not readily accept anything unless proven by their senses or in the laboratory, they stopped short of mentioning God's name.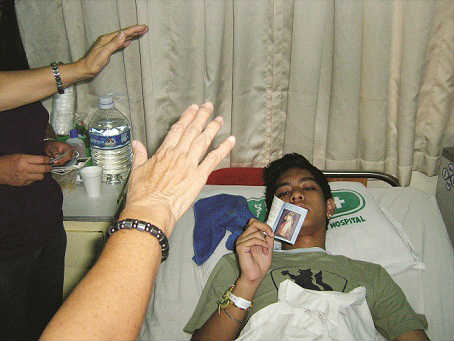 Cases of healing of many serious ailments which have been given up by medical science as hopeless still happen to this day. As a medical doctor, I have personally witnessed a few of them. Several years ago, my brother-in-law was diagnosed to have cancer of the bile duct. He underwent surgery but ended up as an "open and close" case, meaning no surgical or medical intervention such as chemotherapy was necessary because the cancer was too far gone. He was given six months to live. Since medical science had given him up, he and his family resorted to prayer. He went from one healing priest to another. He used to be a non-practicing Catholic but his terminal illness changed him into a religious person.
Six months passed but he was still up and about. He was back to his normal life, managing his real estate business and playing golf two or three times a week. One time, I met his surgeon at a medical conference and told him that his patient was in Singapore at that time playing in a golf tournament. The doctor was pleasantly surprised and said, "Sana nga nagkamali kami!" He meant he wished he and the other doctors were wrong in their findings that he has terminal cancer. His 6-month limit became three years before he finally succumbed. But it was a 3-year bonus of pleasant life and conversion.
About six years ago, a family friend, 69 years old at that time, was diagnosed to have cancer of the liver, a type of malignancy that has a fast and short course. He was given six months to live but with chemotherapy, one year would be a good guess. After a few sessions of chemotherapy, he got so weak that later he decided to forgo any kind of treatment. He accepted his fate and turned to God. While before, he was just a nominal Catholic, he now became prayerful, visiting several churches, going to Baclaran every Wednesday and praying novenas to many saints.
On his 70th birthday, his wife and children decided to throw a big party, afraid that this might be his last birthday celebration. At that time, he was quite weak and had lost a lot of weight. After a healing mass, sumptuous food and dancing followed, but the atmosphere was subdued. Many of the visitors were teary-eyed knowing he would not last long.
However, he started to improve and slowly returned to his old self. A year later, he was able to go to the United States with his wife for a medical check up but actually it was more of a pleasure trip of sight-seeing and visiting relatives planned by his wife and children to make his remaining days as enjoyable as possible.
Check-up at a US hospital confirmed the findings in the Philippines. The American doctors were baffled because his case was not running true to form. By that time, it was expected that the cancer cells would have spread more extensively and would have caused many complications. His cancer was still there but it seemed to be "on hold" as if Someone Up There had said "Freeze!"
When my husband and I met him at a party last year, everyone was astonished at how he looked. He gained some weight, his cheeks were rosy and he was in good spirits. Today, six years after he was given a six-months-to-live verdict, he looks good as new. His wife told me that his faith never wavered in the last six years. He would not go to sleep at night unless he had prayed the rosary and every morning when he wakes up, he would thank God for another day of life. He has been receiving the sacraments of confession and Holy Eucharist regularly.
As of this writing, he is still alive although lately, he would have bouts of a "not-too-well" kind of feeling. But to be alive and enjoy life for six years when you had been given up for lost! Could it be attributed to anything else but the healing power of faith?
Surely, there will come a time when God will call him. We all die eventually, whether or not we have experienced miraculous healing, because we are made of mortal bodies and nobody stays in this world forever. As we say, no one gets out of this world alive. Someday we will have to go to our final home, which is either eternal happiness or eternal damnation.
My 42-year old friend, Diana, is a no-nonsense, very practical and skeptical individual. When her family was invited to attend an exclusive healing session of about 25 to 30 persons by Fr. Fernando Suarez, she did not want to go because she did not believe in faith healing. However, her mother, who was confined to a wheelchair even inside the home because of severe arthritis of both knees, insisted on going. Diana had no choice but to accompany her. (Side note: Two or three years ago, Diana was found to have a nodule in the neck and was advised to undergo an excision biopsy. However, since it has not been bothering her at all, she was biding her time and kept on postponing the procedure.)
Diana merely accompanied her mother to the healing session without any plan at all to participate. Those for healing were lined up in one row and Fr. Suarez started from the left of the line, touching each one with his hands. According to Diana, as Fr. Suarez was doing the healing, his eyes were tightly closed all the time as he went from one patient to another, laying his hands on the different parts of the body of each patient.
When Fr. Suarez, still with his eyes closed, reached Diana's mother who was seated on a wheelchair, he bent down and held on to her knees, knowing exactly what part of the body needed healing. Diana was positioned behind her mother. When Fr. Suarez straightened up, and before Diana could step backward, he gently grabbed her neck with one hand. All the while his eyes were closed. Diana was dumbfounded. How on earth could he know that I have a problem in my neck? How did he know it was my mother's knees that needed healing? Diana was amazed, even frightened, at what she felt while the priest was holding her neck. She had the most inexplicable sensation. She felt as if fire was coursing through her veins causing her to gasp for breath. This feeling lasted for about a minute then followed by an amazing calm.
Diana's mother could walk now without her wheelchair. She uses it only when she needs to go out for a long period, like going to church, to the mall or visiting friends. As for Diana, her skepticism over faith healing has completely disappeared. When I met her in a friend's house about two weeks ago, she was enthusiastically telling her story to our group. We asked her if she has gone back to the doctor to find out if the nodule in her neck has disappeared after her experience with Fr. Suarez, and she said, "Oh, there is no need to go back to the doctor. I am absolutely positive it is not there anymore." We retorted, "But how could you be sure unless your doctor or some tests will confirm it has already disappeared?" But she was adamant, "I know. I tell you I am 100% sure the nodule is gone completely." Never have I encountered such unconditional belief and trust in the healing power of faith!
There are many more true stories of miraculous cures here and abroad, authenticated by medical science, that could not be recorded here due to constraint of space. But I am sure we have read stories, encountered some friends or even have first hand experience ourselves that give testimony to the healing power of faith. Even the greatest minds are perplexed by these cures. Science has to accept its inability to explain them. For God nothing is impossible. For us, human beings, who have but puny minds, it is only faith in God to which we attribute events beyond our understanding. Did He not say that faith can move mountains?
---
The Second Coming of Christ will take place in your lifetime.

According to this book which contains a series of incredible messages and prophecies to an Irish seer, our present generation will witness the Second Coming of Christ.

Click here to read a book review that summarises the key messages of the book.
---
---
---
Get our Free Newsletter!
Get the latest articles straight to your inbox - Free!
Click here to return from The Healing Power of Faith to Catholic Spirituality.