Because She Prayed: A Vocation Story
By Fr. William P. Ramos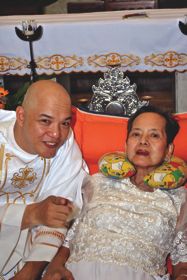 I am a seaman by profession. I worked as a Radio Officer on-board ship before I entered the seminary and fully embraced the vocation God has called me into. Many said entering the seminary was a complete turn-around from my former life. In some ways they are right, but in some aspects they are wrong too for I believe that even when I was a seaman, God was already preparing me for my vocation to the priesthood.
We are only two in the family and I am the youngest. My brother got married after college and then lived separately from our parents. I worked as a seaman not because it was my dream in life but because it was the best way to earn money and help my parents.
It was on the 28th of January 1994 when I joined the ship M/V Nicosia, a container cargo vessel that had routes in Europe and Asia. My contract was renewable annually but I would not go home for yearly vacations because the Philippines was one of our ports-of-call every year anyway. However, I did not finish my third contract year because my father had died in May 1996 and I needed to go home.
I did not apply again after my father's funeral because I had to be with my mother. Two years later she was diagnosed with stage 4 thyroid cancer – the cancer cells had already spread to some parts of her body including the lungs. She was immediately advised surgery followed by radiation therapy every six months.
This was a difficult time for my mother as she had to be kept in isolation for a week in the hospital. Radiation therapy also severely affected her sense of taste which made it very difficult for her to appreciate the food she was eating which was necessary to get her strength back.
On the other hand, every radiation therapy became an opportunity for my mother to spend quality time with God. She never failed to bring her journal, prayer books, spiritual readings, rosary and Bible. It was also during those times when she developed a deeper relationship with God for it was during those moments when she begged God for the grace she needed to go through her treatments. It was also during those times when she prayed hard for my vocation.
After three years of radiation therapy, the doctor told me that despite giving my mom the highest dose of radiation, they still were not able to eradicate the cancer cells – the ones in her lungs were particularly impossible to treat. We really had to resort to prayer and beg the Lord for a miracle.
I remember the look of frustration on my mother's face when she was informed of this but in the end, she told her doctor not to worry because she believed that God had better plans for her. When I talked with her after we came back from the hospital, my mother said that if medicines could not cure her, she will just keep on praying and continue with her herbal and food supplements.
In the year 2000, the seminary officially welcomed me into their community as a candidate for the priesthood. With a heavy heart, I had to leave my mother to follow my vocation, but she assured me that I must not be afraid because God would take care of her. In the ten long years of battling cancer, God really fulfilled His promise to my mother. Her cancer became very responsive to treatment and I was able to almost finish my formation with my mom at my side, praying and supporting me day and night with her love and prayers.
Just before my mother passed away, I asked her: "'nay ("inay" or "mother"), if the Lord were to grant you three wishes, what would you ask for?" Her response was simple: "I only have one wish – to be there at your ordination."
This deeply saddened me because five days prior to this conversation, my mother's doctor told me that we had better prepare for the worst because the cancer cells had already spread throughout her body. I was only in my third year of Theology and I had to finish that first before I could be recommended for ordination. I was so sure my mother's only wish could not come true.
One day, a priest friend of mine who knew of my mom's condition advised me to appeal to my formators and my bishop for permission to get ordained ahead of my batch as a gift to my mother. I followed his advice and without much difficulty, my bishop and my formators agreed to ordain me as a deacon.
On 16 January 2010, twelve years after she was diagnosed with Stage 4 cancer, I received the gift of ordination to the diaconate. My mother was in her wheelchair, in the front part of the San Jose Seminary Chapel, witnessing the whole ordination rite.
I could see how happy she was at that moment – her prayers had been answered! God granted her wish and it was definitely a miracle not just for her but also for me. She was my constant prayer companion and without her prayers I am sure that things would turn out different.
Three weeks after my ordination my mother passed away. Before she died, I asked again if she had any more wishes to request from God. She said that if God were to grant her one last wish, it would be to die peacefully and painlessly. I again felt much sadness in my heart for I knew that the cancer cells had metastasized already to her bones.
Her doctor advised me to text him whenever she was in pain so he could give her a high dosage pain reliever. In those three weeks, she asked for only one medicine: a 500mg-paracetamol for her headache. On the 7th of February 2010, after our evening rosary, my mother breathed her last, without pain, without struggle.
These "wishes" all happened because my mother prayed really hard for the grace she needed. I believe that if our heart is sincere when asking God for certain favors, there is no reason for Him to deny us. He is a God of Love. He knows our desires as well as our needs – we just have to be faithful and trusting.
My mother may no longer be with me but I feel her presence to be much stronger now, because she prayed.
(Fr. Willie is 38 years old and presently the Administrator of La Madonna del Divino Amore Quasi-Parish in the Diocese of Parañaque, Philippines. He was ordained last March 19, 2011.)

---
Subscribe Now to our Free E-Newsletter!
Get the latest articles on the Blessed Virgin Mary, Our Lord Jesus Christ, and the Catholic Faith, straight to your email inbox - Free!
---
Click here to return from Vocation Story: Because She Prayed to Inspirational Stories.