Pope John XXIII: The Good Pope
By Nora V. Clemente-Arnaldo


Pope John XXIII was affectionately called the "Good Pope" by his devotees and considered the sweetest by many.
In writing this article, there are two significant factors I took into consideration. First, my conversion to the Catholic faith, seven months after he was elected 261st pope of the Roman Catholic Church and sovereign of Vatican City on 28 October 1958. For my conversion, I give thanks to God's instruments, Sr. Trining Menendez and Sr. Geraldine Bayhon, Daughters of Charity nuns of Sta. Isabel College, Manila.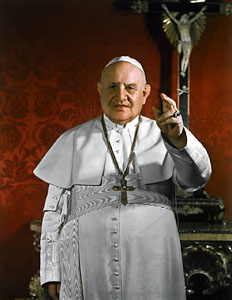 The pope was not in my vocabulary for 19 years, having been baptized an Aglipayan since birth. But with God's inscrutable ways, He orchestrated the things and events in my life to make me know, see, and experience the difference between my old religion and the new one. One great difference, of course, is the authority of the pope. There is no pope to follow in my old religion. As a newcomer to the Catholic fold, the newly-elected pope impressed me deeply with his profound humility, approachability and sweetness. Yes, he always looked pleasant and smiling. What a good shepherd and a loving father to his flock, I would always tell everyone. His gregarious personality sort of exuded an enthusiasm for life and an enjoyment for human company.
Secondly, Pope John XXIII held St. John Vianney in high esteem. In fact on the 100th anniversary of the saint, the pope wrote an encyclical on St. Vianney whereby he recalled the pastor's advice – that we do not need many words when we pray. We simply open our souls to God and feel happy that He allows us to come before Him.
Biographical Sketch of the Life of Pope John XXIII
From the account of Renzo Allegri in his article "Pope John XXIII Incorrupt", Angelo Giuseppe Roncalli was born on 25 November 1881 in Setto il Monte, a small country village in the province of Bergamo, Italy. The fourth child in a family of 14, his parents were Giovanni Battista Roncalli and Marianna Guilia Mazalla. His family of peasants worked as share croppers, unlike his predecessor Eugenio Pacelli, Pope Pius XII, who came from an aristocratic family.
In 1904, he was ordained priest in the Catholic church of Santa Maria in Monte Santo in Rome. He was always the humble priest of his people. In fact, in his first public appearance as pope, he appeared to the huge crowd from the balcony overlooking St. Peter's Square, wearing only a cassock and surplice much to the crowd's delight and the utter shock of the Church hierarchy. "I am called John," he said.
On 25 December 1958, his first Christmas as pope (he became the first pope since 1870 to make pastoral visits in his diocese of Rome), he visited the Bambi Gesu hospital for children infected with polio and the next day, he visited Rome's Regina Coeli prison where he told the inmates "You could not come to me so I come to you."
Vatican Council II and Ecumenism
Unlike the First Vatican Council in 1870 that took 5 years to plan and prepare (1864-1869), the Second Vatican Council II was convened by Pope John XXIII without any warning and its announcement caught the Vatican Curia off guard. A trained historian, the new pope spoke of the need "to open windows" of the church and "let in fresh air". The Church, indeed, was badly in need of what he called "aggiornamento" or "updating" (from Robert Ellsburg's "All Saints"). Invitations were sent out to other Christians outside of the church to send observers to the Council. It formally opened on 11 October 1962 and closed under Pope Paul VI on 8 December 1965.
From the Second Vatican Council came changes that reshaped the face of Catholicism: a comprehensively revised liturgy, stronger emphasis on ecumenism, and a new approach to the world. It is quite interesting to note that four future pontiffs took part in the council's sessions: Giovanni Battista Cardinal Montini (later Pope Paul VI), Bishop Albino Luciani (Pope John Paul I), Bishop Karol Wojtyla (Pope John Paul II) and Fr. Joseph Ratzinger (Pope Benedict XVI).
The Miracle Attributed to Pope John XXIII and his Incorrupt Body
Pope John did not live to see Vatican II come to a close. He succumbed to peritonitis due to a perforated stomach cancer on 3 June 1963 at the age of 81, ending a term of four years and seven months. Being a popular and well-loved priest in his life time, his passing was universally mourned.
He was beatified, along with Pope Pius IX of Vatican Council I, on 3 September 2000 by Pope John Paul II. The date assigned for the liturgical celebration is not June 3, anniversary of his death, but October 11, the anniversary of his opening of the Second Vatican Council.
Like St. John Vianney, Pope John XXIII is also credited with after-death appearances. The story written by Madeline Pecora Nugent in the "Messenger of St. Anthony," gives the documented testimony of two coal miners, David Fellini and Henry Throne, trapped 300 feet underground in Pennsylvania way back in August 1963, ten weeks after the death of Pope John XXIII. This is what the two said: "That they both saw the 'Good Pope' in his black cassock grinning comfortingly and lovingly at them in the chamber, while his body radiated the bluish light. That he was with them until their successful miraculous rescue on 27 August 1963." Clearly, the Lord answered Pope John XXIII's prayer by saving from death these two trapped miners given up for dead.
Now Pope John XXIII joins the list of the incorrupt Saints – St. Bernadette Soubirous, St. Catherine Labouré, St. Anthony de Padua, St. Vincent de Paul, St. Teresa of Avila, and St. John Marie Vianney. Regarding the incorrupt body of Blessed Pope John XXIII, Renzo Allegri wrote: "It was found in fact on 16 January 2001, 38 years after his burial, as if time had stood still, eliciting comments like 'it looks like he is sleeping' (Cardinal Sodano) and 'I had the impression that he had just died the day before' (Cardinal Noe)."
The person who was asked to perform the operation of preserving the pope's remains, Prof. Gennaro Golia, assistant at the Anatomy Department of the Medical School of the Catholic University in Rome, disclosed that while his own treatment was supposed to temporarily stop the degeneration process, it was never meant to preserve the body forever. In other words, this treatment cannot explain the present incorrupt state of Pope John XXIII. Quoting Pope John Paul II: "As a priest, as a bishop, and as a pope, Blessed Angelo Roncalli was ever receptive to the action of the Holy Spirit which guided him on the road to holiness."
Since the devout had increased in numbers after his beatification, his body was placed under St. Jerome's altar in St. Peter's Basilica. We pray that his canonization will happen soon.
Priests, seminarians and all Christians should look up to Blessed Pope John XXIII as a model and inspiration for sanctity, and pray to him to help us as we tread the narrow path of holiness.

---
Subscribe Now to our Free E-Newsletter!
Get the latest articles on the Blessed Virgin Mary, Our Lord Jesus Christ, and the Catholic Faith, straight to your email inbox - Free!
---
Click here to return from Pope John XXIII to Saints.