Luigi Scrosoppi, Patron Saint of AIDS Sufferers
By Nora V. Clemente-Arnaldo

Luigi Scrosoppi is the little-known patron saint of AIDS sufferers. Knowing this saint would be helpful to people suffering from this deadly disease known as AIDS which is dubbed as the modern plague. Now there is one in heaven who intercedes for them. In short, there is hope and consolation.
From the account of the author, the patron saint's name is Luigi Scrosoppi, born on 4 August 1804 in Udine (a small city in the north of Italy) to Domenico, an esteemed gold smith, and Antonia Lazzarini, who came from a wealthy family. Coming from a bourgeois family, Luigi grew up in a relaxed and comfortable environment. The religious parents however saw to it that their lifestyle was rich in religious teaching. Luigi had two brothers who, like him, became priests. His model and inspiration in life was St. Francis of Assisi because of his great love for the poor, coupled with his virtue of humility.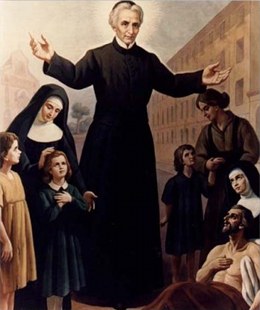 This Italian priest loved performing good deeds silently and discreetly. All his time he dedicated for the poor but always in anonymity. His brother Carlo, priest of the Oratorian Fathers, was promoting a charitable work of assisting young girls orphaned because of the epidemics which had devastated their area over the few years, removing them from the streets. They called their project "House for the Destitute".
Don Luigi committed himself to this work for 40 years in the shadow of his brother. He carried out the most humble, difficult duties like collecting money for the young girls. In fact he had very painful and humiliating experiences like being sent away and being called a swindler or loafer. There was also a time when he was hit hard by a man he approached for some money for the orphans. But instead of getting angry, much more retaliating, he replied with humility "Thank you. This is for me but won't you give me something for my orphans?" According to the author, the man was so moved and his conscience must have been pricked, so that from that moment onwards, he became one of the priest's benefactors.
Upon the death of his priest-brother Carlo in 1854, Don Luigi obliged to come out from his position of anonymity and took the reins of the project. For 30 years of his remaining life, he made it grow, with grace from above. The teachers were given training for the education of the young orphans and then forming a new religious congregation that had been so blessed ever since that their works are not only in Italy. Their congregation has mushroomed in other parts of the globe like Brazil, Bolivia, Uruguay, to mention a few.
Don Luigi Scrosoppi died on 3 April 1884. He was beatified on 4 October 1981 and then declared a saint on 10 July 2001 by Pope John Paul II. Before that, he was simply called the "priest of the poor," "apostle of the abandoned children," or "founder of the Sisters of Providence". Upon his canonization, he immediately acquired the title of "Patron Saint of AIDS Sufferers".
The Miraculous Intervention of Don Luigi Scrosoppi
Peter Chungu Shitima who was then 24 years old was studying for the priesthood in the community of the Oratorian Fathers in Oudtshoom, South Africa when in the spring of 1995 he began to experience strange pains all over his body and great fatigue. Because of his religious zeal and industriousness, his superiors thought that his ill health was just due to exhaustion and so he was advised to take a period of rest.
However at the beginning of 1996, his condition worsened with high fevers, chills, and extreme weakness. He was diagnosed with pyelonephritis, a serious kidney infection, and peripheral neuritis. They also discovered that he was suffering from AIDS, the full-blown disease. The devastation of the immune system left the victim susceptible to a disease that would not otherwise develop. Peter's condition was such that there was no hope of survival for him. When he was declared "terminally ill" by the doctors and discharged from the hospital, he was advised to return home to his family in Zambia to die among his loved ones.
This cruel verdict did not make Peter lose hope. Earlier on, he read the biography of Blessed Luigi Scrosoppi and it fascinated him. He began to pray to this holy Italian priest everyday.
Peter was well- known and well-loved in Oudtshoom. He used to perform many tasks, like teaching catechism to children. It was not surprising then why so many prayed intensely for him. The Father Superior of the Community, aware of Peter's devotion to Blessed Luigi Scrosoppi, gave him a medal with his effigy.
Back in Zambia, according to the doctors, Peter had only a few weeks to live. He had to be helped in everything he did because he could not even get up. He had a sister, Mwewa, who was always by his side and both always prayed the rosary together.
Then on the night between October 9 and 10, Peter dreamt that one of the priests of the Oratory, Fr. David, woke him up to place a crown on Blessed Luigi Scrosoppi's head. Peter explains, "The next morning when I woke up, it was as if I had never been ill. I had my appetite back again, got out of bed, got dressed and walked to the parish on my own. From that moment on I have always been well. I have never been ill since."
This miraculous recovery of Peter was examined by the doctors who treated him in Oudtshoom's hospital and their conclusion was that something extraordinary happened which they could not explain.
The Role of Peter's Recovery in the Canonization Process
Peter's recovery was presented to the Congregation for the Causes of Saints, which was in the process of working out the canonization of Blessed Luigi Scrosoppi. His recovery was discussed at length by an international medical commission which excluded "scientific explanations". The theological commission, on the other hand, found this recovery to contain all the characteristics of an authentic miracle. It is with this miracle that Blessed Luigi Scrosoppi has become a Saint.
Since then, there has been a never-ending flow of letters, telegrams, telephone calls by HIV victims asking for prayers and invoking the saint, reaching the mother house of the Sisters of Providence in Udine and the various offices of the congregation abroad. Also, the internet site dedicated to the saint is bombarded with appeals for help.
Let us remember the AIDS sufferers not only in our country but all over the world and invoke St. Luigi's intercession for them.

---
Subscribe Now to our Free E-Newsletter!
Get the latest articles on the Blessed Virgin Mary, Our Lord Jesus Christ, and the Catholic Faith, straight to your email inbox - Free!
---
Click here to return from Luigi Scrosoppi to Roman Catholic Saints.